A retrospective piece written by Antarctic photographer Frank Hurley's granddaugther, Julie Byrnes
Back In The Day . . . 1915
Finding Frank
*By Julie Byrnes, granddaughter of legendary Antarctic and wartime photographer Frank Hurley.
Try waking up to a picture of the Endurance about to disintegrate in pack ice in 1915 in the Weddell Sea during an Antarctic expedition. While it may be one of my grandfather's most famous photographs, taken using 25 flash powder flares wired to the camera at 70 below freezing, it's not for dreaming material or winter viewing first thing in the morning.
My grandmother might also have had nightmares moving around their Collaroy Plateau home at night, bumping into scary New Guinea artefacts from her husband's expeditions. I understand most of these child-scary goodies are now in the museum, while most glass negatives and photos are in institutions of one kind or another.
While New Guinea artefacts may have been scary, the house itself at Collaroy Plateau, Sydney, was a child's delight; the then enormous window overlooking Narrabeen Lakes was the biggest I'd seen and, being ever the artist, my grandfather had captured a stunning view. Best of all was the cavernous, mysterious darkroom with stone walls under the house. It was seriously off limits to little people, but we must have had a peek at some stage as the red lights, chemical smells, the sound of running water, black curtains and strangely shaped white sinks aren't a figment of my imagination. All sorts of magic must have happened in there – and he performed it all without Photoshop.
Sadly, the child takes all this in stride, and now I'd revisit to take notes and get out the digital. (Forget his glass plates and two-tonne cameras.) Then I'd flick a quick photo via email over the phone to Australian Traveller. Such irony. These men sailed in flimsy ships, their dress didn't resemble micro-fibrous, breathing, keep-out-the-cold, no-sweat materials, and they hadn't heard about satellite dishes, emails or storing photos on CDs. Still they accomplished feats of skill and courage grander than most of us will ever approach.
My memorabilia is limited, but I greatly appreciate the statuesque photo of my grandfather in whites taken in his early 30s, the everlasting 1915 photo of the "spectre ship", the Endurance, and the early photo of grandfather, Sir Douglas Mawson and crew members on a 1930 expedition to Antarctica. Reproductions they may be, but nonetheless, for me they are priceless.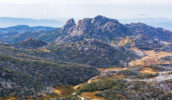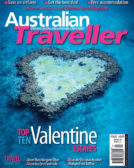 Enjoy this article?
You can find it in Issue 7 along with
loads of other great stories and tips.