The latest portable sound system from Edifier punches well above its weight.
It's getting harder and harder to say to no to the endlessly changing (but only ever so slightly) portable sound stations flooding the market these days. Some of the systems out there are okay, some are pretty terrible, others are surprisingly good. We'd definitely put the Edifier On The Go into that last category.
This is the Edifier On The Go iF350, and it is great looking, even better sounding, and straddles that line between true portability and stay-at-home systems.
It's large and attractive enough to find a permanent, comfortable home, say in your kitchen or bedroom, but small enough to be taken on any trip. It has a nice remote that slots seamlessly into its back, the sound quality is fantastic for such a small unit, it has an FM radio with clock and alarm, an iPod dock (of course) and, best of all, built-in rechargeable batteries that last up to 15 hours playtime.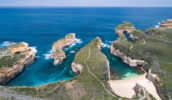 Perfect for instant, high quality tunes no matter what the location. RRP $199, available at Harvey Norman, check out www.edifier-international.com for more info.