Each issue Australian Traveller delves into the world of wine – including new reviews, cellar doors, books and tours. By Alissa Jenkins
PASSING CLOUDS SPARKLING CHARDONNAY, 2008
Passing Clouds' sparkling has a light green tinge with a subtle floral and citrus fragrance. Delicate mineral and herbaceous flavours fill the palate, balanced by high acidity. Crisp, dry and easy to drink, this crowd-pleaser would greatly complement Christmas lunch.
INNOCENT BYSTANDER MOSCATO, 2011
A true moscato made entirely from muscat grapes grown near Swan Hill in Victoria, Innocent Bystander's pink bubbly is one for the sweet tooth. With aromas of sherbet and Turkish delight, this light drop is fantastically fizzy on the palate, with notes of rosewater, musk and strawberries – perfect for a girly day out at the races.
$12.50/375ml; $20/750ml,
innocentbystander.com.au
BROWN BROTHERS PATRICIA PINOT NOIR & CHARDONNAY BRUT, 2005
Named after the matriarch of the Brown family, this fine-bead brut has a honey colour and a strong yeasty scent with a hint of apple. It shows dry, nutty characters, balanced by crisp acidity and a long palate as flavours of fresh bread tend to linger. Deliciously balanced, it recently won a trophy for best sparkling wine at the Royal Melbourne Wine Show and took out gold at the recent Australian Sparkling Wine Show.
NEXT TIME YOU'RE IN…THE SUNSHINE COAST HINTERLAND
Nestled in the Hinterland behind Qld's Glasshouse Mountains is the new Somerset Valley Wine Trail. Officially launched in September, this gourmet road trip is focused on locally produced food and wine, allowing visitors to meet with the winemakers and producers at each location. From Brisbane, the trail is a 200km round trip, taking in four local cellar doors including Ocean View Estates (which won the Queensland Tourism Award for Wineries, Distilleries and Boutique Breweries 2012), Woongooroo Estate, Winya Wines and Nirvana Estate. The area is best known for white wine varietals such as viognier and verdelho, but its reds are also popular – and light-bodied enough for a Queensland summer. The guided tour features food and wine matchings, wine tastings, a degustation experience, cheese platters and afternoon tea, but on a self-drive tour you can do it all at your own pace. 
www.somersetwinetrail.com.au
Q&A: WITH MATTHEW DUNNE, HEAD SOMMELIER FOR ARIA RESTAURANT
With wide-ranging experience in food and wine, both in Australia and abroad, Matthew found a happy medium as a sommelier. He recently won the Sydney Morning Herald Good Food Guide 2011 Louis Roederer Sommelier of the Year, yet he remains down to earth. His philosophy is to make the match fun for everyone, and he's created a blog about it.
How can someone develop their palate? 
Tasting, tasting and more tasting! A great way to train your palate is to try wines without knowing what they are and then work out what they might be. This can be backed up by reading, visiting vineyards, meeting winemakers and working with a big wine list.
What are the rules of making a good match? 
The "old school" train of thought is to match wines with food that has a similar or shared intensity, like rich food with rich wine, or delicate dishes with more elegant wines. Wine and food pair well when they share common ground, just like people. But then there's the "opposites attract" or "yin and yang" strategy. This is where you might have a rich ingredient and use a wine to essentially cut through it. The other thing to consider is the cooking technique; is it confit or is it grilled? Also, what condiments or sauces have been used; is it acidic or creamy? These will all influence how a wine will pair overall.
What's the biggest mistake people make when pairing wine with food? 
You need to decide the focal point. For example, if you want to showcase a special wine to your friends, the food should work around the wine and play second fiddle. But then if you're promoting a certain dish or theme, the wine should be part of the backstage crew.
Is there such a thing as an "all rounder" wine that goes with anything? 
It comes down to personal preference. Wine is very subjective: there are no wrongs or rights. I think pinot noir is especially versatile. It's light-bodied, maintains good acidity and can be paired with many different dishes, including fish.
What's your all-time favourite wine? 
When I was in the Wachau in Austria last year I tried a 1986 Alzinger Loibenberg Riesling Smaragd. It was the purest expression of riesling I've ever tried and it didn't look one bit 25 years old. Although some of the more stewed-fruit characters were beginning to show, there were plenty of lime and lemon notes and great acidity.
Check out Matt's blog at
matthewdunne.blogspot.com
NEW WINE TOUR: WINNING EXPERIENCE
Jacob's Creek Visitor Centre in the heart of the Barossa Valley has cleaned up at the recent South Australia Tourism Awards, taking three major awards including Best Tourism Winery (which it also won in 2007, 2008 and 2010). Much more than an average cellar door, the 35-hectare precinct encompasses an award-winning restaurant, tastings of its renowned wines, daily vineyard tours, and self-guided walks along the eponymous creek past the historic Jacob's Cottages (pictured), once home to the Jacob and Gramp pioneering wine families.
jacobscreek.com.au
The next time you're planning  atrip to the NSW Hunter Valley, check outt Wine Tours With Flair, which offers personalised small-group tours of the region's boutique wineries, sampling local wines that are seldom found at your local bottlo. Various tour packages are available, departing from Sydney, Newcastle or the Hunter itself.
NEW BOOK FOR WINE-LOVERS:
THE QUINTESSENTIAL AUSTRALIAN WINERY GUIDE
Edited by Jade de Souza
(Think Publishing, $39.95)
From the Hunter Valley to Margaret River, this state-by-state guide offers all the essential information needed for touring Australia's leading wineries and cellar doors. Covering more than 180 destinations, the book details winemakers, available activities, popular wines, opening hours and contact details at each, enhanced by maps and beautiful photographs. A great Christmas gift for a wine-loving friend.
WINE DRIVE & NEW 'GLAMP' SITE:
About an hour's drive from Toowoomba and three hours from Brisbane, near the NSW border, The Granite Belt is Queensland's most interesting wine region. It's a remote and rocky section of the Great Dividing Range, where stunning views and native wildlife abound. So it's exciting to be able to stay in the thick of things at one of the country's newest "glamping" sites. Alure Boutique Villas has opened a 56m2 African-safari-style luxury tent complete with four-poster bed, eco fireplace, full bathroom and a deck with private outdoor spa. For more about Alure see alurestanthorpe.com.au; for information on the region see
granitebeltwinecountry.com.au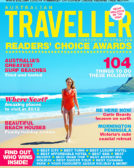 Enjoy this article?
You can find it in Issue 42 along with
loads of other great stories and tips.