Each issue Australian Traveller delves into the world of wine – including new reviews, cellar doors, books and tours. By Alissa Jenkins.
TEMPRANILLO REVIEWS:
AUDREY WILKINSON
TEMPRANILLO, 2011
It appears you can teach an old dog new tricks, with one of the Hunter Valley's oldest wineries producing one of the newer wine varieties in Australia. Audrey's take on this Spanish drop is rich violet in colour, with an earthy, undergrowth aroma. Mulberry flavours shine through on the palate, balanced by lean acidity to make a good medium-bodied red.
MAYFORD WINES TEMPRANILLO, 2010
This deep purple Victorian tempranillo has a strong perfume of black cherry and spices and a smoky, tobacco tang. It coats the mouth with ultra-smooth flavours of berries, spice and a hint of mint at the end. The palate is long, the tannins fine and overall it's a very smart, well-balanced drop.
LA LINEA TEMPRANILLO, 2011
Red cherry in colour, La Linea's latest tempranillo has an earthy, almost oaky scent, with a hint of blackcurrant. In comparison to the previous two reds, it is lighter and has a shorter palate, but offers more assertive tannins and richer, darker fruit characters.
$27, lalinea.com.au
WHAT WE'RE READING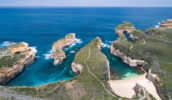 RAINFOREST COUNTRY: AN INTIMATE PORTRAIT OF AUSTRALIA'S TROPICAL RAINFOREST
By Kaisa and Stanley Breeden
($75, Fremantle Press)
Straightaway, the irresistibly cute cover shot of a trembling pygmy possum sucks you in, followed by 11 chapters of stunning fine art photographs taken within Queensland's tropical rainforests. A celebration of the unique flora and fauna that inhabit these Gondwana forests, this glossy hardcover comprises more than 200 shots that showcase the moods and cycles of the pristine territory, complemented by insightful captions. A must for any nature-lover's coffee-table collection.LAKE EYRE: A JOURNEY THROUGH THE HEART OF THE CONTINENT
By Paul Lockyer
($59.99, ABC Books)
When unseasonal rainfall transformed Lake Eyre from an inhospitable salt pan in outback South Australia into a thriving wetland, it inspired renowned ABC journalist Paul Lockyer to film a TV series and write a book. With his colleagues Gary Ticehurst and John Bean, Paul made several trips to the region – before, tragically, all three lives were lost last year in a helicopter crash while filming. This book, however, stands as a tribute to their skills, the stories they found, and their affection for the region. Enhanced by dramatic photographs showcasing the wild beauty, the book explores the inland sea's past from its Aboriginal tribes to pioneers and cattle kings.
PROFILE
5 minutes with…
SARAH LIMACHER, HEAD SOMMELIER AT  THE KEYSTONE group
She might be younger than many of the wines she serves, but don't underestimate 25-year-old Sarah Limacher, who designs award-winning wine lists for one of Sydney's biggest hospitality groups.
What appealed about becoming a sommelier?
They say do what you love, so drinking was right up my alley! I've always been interested in wine, and when I moved from NZ to Sydney in '07, I worked alongside some amazing sommeliers who took me under their wing and shared their passion. I hope to get involved with winemaking one day; one of the best parts of my job is meeting winemakers, trying their wines and hearing their stories.
Does your age affect how you combine food and wine?
I think so – I'm more adventurous. I love finding new and weird things to push the boundaries – it's a bit like treasure hunting. It's so rewarding when people try something new and go "wow!"
What's the rule to making a good match?
I like to think about regionality. For example, if I'm eating venison from NZ, I pair it with a great Martinborough or Central Otago pinot noir. I also look at how the food is cooked – like fish can be smoked, grilled, fried, and each calls for a different approach to how it's matched with wine. But the main rule is to have fun; experiment and enjoy it.
What's your all-time favourite combination?
My favourite was at Attica in Melbourne. We had a bottle of 1988 Krug with a snow crab dish and it was magic! However, the best wine I've ever had was 1961 Chateau Latour from Bordeaux – almost a spiritual experience. I was lost for words.
What has 2012 got in store for you?
The Keystone Group has some exciting new venues opening up, such as the Newtown Hotel relaunch in September, and a new rooftop bar in Kings Cross, which I'll be writing some fun and fabulous lists for! I'm also currently a part of the Australian Working with Wine Fellowship.
NOW OPEN

DUDLEY WINES CELLAR DOOR
Perched atop a cliff on Kangaroo Island's north shore, Dudley's new cellar door takes in views over Investigator Strait to SA's Fleurieu Peninsula. Visitors can taste the full range of Dudley's handcrafted wines, including the Dudley Bubbly and Shearing Shed Red – grown, produced and bottled on the island. The cellar door also showcases wool and natural-fibre clothing, art, platters and light meals – all drawing from local producers and suppliers where possible. Located a handy 12km from the ferry terminal in Penneshaw, this is one place you should certainly add to your KI itinerary.
NEXT TIME YOU'RE IN…

VICTORIA'S HIGH COUNTRY
Who knew beer and bicycles went hand-in-hand? The newly launched Victoria High Country Brewery Trail is proof the two make a grand match. It has a new pocket guidebook packed with brewery stats, brewer bios and frothy facts, and the cycle trail weaves from the Murray to the mountains, following a scenic path past leading local breweries.
The trail visits Black Dog Brewery in Taminick, Bridge Road Brewers in Beechworth, Bright Brewery in Bright and the Sweetwater Brewing Company in Mount Beauty; it also passes Rostrevor Hop Gardens near Eurobin, where the key beer ingredient has been grown since the 1890s. As well as tasting beers, visitors can meet the brewers and join in regular behind-the-scenes events held throughout the year.
Brewers also reveal in the guidebook their favourite mountain bike ride in the surrounding hills… That's one way to avoid a beer belly!
victoriashighcountry.com.au
TASSIE WINE TOURS
Want to learn about wine without the waffle? Prestige Leisure Tours in Launceston has started new Wine Appreciation Tours, offering just that. On a daytrip to picturesque Josef Chromy Vineyard in Relbia, guests can learn about the whole process from vine to wine, tour the production and bottling areas, taste from tanks and have a long, laid-back lunch. Along the way, expect informal lessons in wine tasting and food matching. Minimum of eight guests; from $195 per person.
prestigeleisuretours.com.au


STUCK ON STICKY 
This is one to set off those rich winter desserts: Miranda's Golden Botrytis Semillon 2008 from the NSW Riverina. Luscious and viscous, it fills the mouth with honey, marmalade and dried fruit flavours. Sweet but not sickly, it can cut through heavy dishes like crème caramel or tiramisu. Yum! $18.99
STONE COLD SHOTS, ANYONE?

We love these new Ekke soapstone shot glasses. Not only do they look über-cool, but they're great at keeping the alcohol within nice and cold from one use to the next. Whack them in the freezer for a few hours beforehand for an extra chilly blast. $49.95 for four.
thebrassring.com.au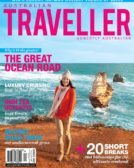 Enjoy this article?
You can find it in Issue 45 along with
loads of other great stories and tips.