Quentin Long hears some horror stories that have him re-examining everything he thought he knew about the dark art of travel insurance.
I am not sure whether an accountant or an actuary would be my most loathsome job. I think I would rather be a pool attendant in a retirement home.
On my regular chat with Linda Mottram on ABC 702 Sydney I had cause to remind myself just how boring and tedious an actuary must be.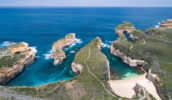 In the aftermath of the Australian women gored by a bull at the San Fermin festival, it seemed timely to talk travel insurance and in particular, when you are and when you are not covered.
I have discussed travel insurance at least half a dozen times on radio broadcasts and TV segments over the years and would like to think I am pretty up to speed.
Ahh, no.
Thanks to the highly educated and smart ABC listeners, I learned a couple of very important fine-print details I need to share with you.
And, no, it's not that travel insurance companies are about as trustworthy as a two-year-old and a lollie jar. All my experiences have actually been very good.
Lesson 1 from the ABC Listeners
A policy in two names is for two people travelling TOGETHER.
Okay, I know, I too want to grab the nearest actuary and give them a good four-finger-and-a-thumb talking to, but they argue that the cost of the cover is predicated on the idea that there are two people doing exactly the same thing.
So if in fact you are doing separate activities while travelling you are doubling the risk. And if you are increasing the risk, the insurer needs to charge a higher premium.
Sounds logical and fair when you say it that way, but still little comfort to Rose (an ABC caller) whose sister was not covered when travelling without her husband inTasmaniawho's name was on the policy.
When Rose's poor sister broke her leg inTasmania, the insurer chose not to cover her as they were not travelling together.
Now before we restart conversations of the four-finger-and-a-thumb kind with the insurance company, there must be more to the story as it seems very harsh for the insurer not to have paid the claim.
But let this be a warning to us all. If you are on a dual policy and you will be travelling alone, call the travel insurer to insure (pun intended) that you have the appropriate cover.
Lesson 2 from the ABC listeners
Public liability is not too public in some places. When you hire a car or do pretty much anything inAustralia, there is imbedded public liability coverage.
Not so in many other countries and, using our favourite litigious nation, theUS, as an example; if you hire a car in theUS, you need to take out your own public liability insurance.
Travel insurers do not cover your public liability if you are in control of a car or other motorised machines.
So that big public liability coverage they have on the policy is great… for all the activities least likely to cause much damage.
I must say that we as a company and me personally use TID as its call centre and help desk is out of this world and it offers the most pragmatic advice.
If you have some classic fine-print dilemmas or denial of claims, I would love to hear them.
See also, Quentin's nine things you must know about travel insurance.