Whether it's that elusive bungee jump, a strange phallic souvenir from Bhutan or chowing down on crocodile, life on the road for Getaway's Catriona Rowntree is more serendipitous and enthralling than ever, finds Steve Madgwick.
You must have covered most of Australia working on Getaway; any room left on the bucket list?
The Tiwi Islands: The beauty of them, the mystery of them. I would like to share their story with as many people as possible. I'm a great believer that tourism can help so many communities in the most wonderful way. I also feel like I've only just touched on the area around Broome – I would love to explore there more.
What would be your ultimate treat for a long weekend?
Swimming with the whale sharks at Ningaloo Reef. From what I've heard there's great accommodation and it sounds like a magical experience.
What's your dream stay in Australia?
Rain, hail or shine I love qualia. It's the perfect place for a long weekend; fly in, fly out – I'm all for easy access. I love the way they are so proud of their Australian food and design. They fly our flag beautifully, in a totally luxuriously way.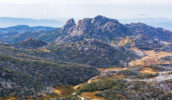 What's the tackiest souvenir you've ever bought?
At Getaway we all try to outdo each other to buy our production manager something bad. Well, I got her a faux-boob mug in Vegas. I also remember something my husband told me "never ever to take out of the cupboard". I brought back a large wooden penis from Bhutan – where they have large erect penises on the side of buildings, said to bring fertility and good fortune to a new home.
Of all your travels is there one memory that sticks in your mind?
Everyone says being a Getaway reporter must be the best job in the world, but I always say that it's all relative and depends on what floats your boat. I knew that was the case when I went hot air ballooning above the Serengeti at sunrise. I looked at the pilot and I thought "you have the best job in the world – no two days would be the same and you bring so much joy into other people's lives".
Have your two children changed the way you travel?
Children just want to have a pleasant environment; with the age of my children, all we want is to just be a family and have lots of activities. If you agree with that, then you know that holidays don't have to cost a lot of money.
Last summer we went to Merimbula on the NSW South Coast and, when we returned, my two year old said: "Mummy, when can we go back to our new house?"
A lot of parents think they have to one-up their last trip, or indeed another parent in the playground, but that's not necessary. I feel selfish enough with my day job already.
Best Australian beach I've ever been to?
An old favourite for me is Balmoral Beach (Sydney). I remember having a life-changing moment there when I was at a crossroads in my life, wondering whether to pursue my career overseas. It was a grey and rainy day, but I sat on the beach, looked around, and thought what more do I need in my life – this is paradise! I virtually grew up on that beach.
Is there anything too adventurous for you on Getaway?
When I started I felt that the executive producer was treating me with kid gloves. I said to him "don't ever treat me differently to the male reporters – I'm up for anything". So I've done swimming with sharks and jumping out of planes, HOWEVER, the opportunity to bungee jump hasn't crossed my path yet, but I look forward to that day.
Best meal you've had in Australia?
I remember sitting in the Zoo Bar and Café in Broome with five different meats in front of me: barramundi, camel, crocodile, 'roo and pearl meat. They were all absolutely delicious. I love a bit of farmed croc – it's really juicy.
Overpacker or underpacker?
Major overpacker! You could never accuse me of being practical. I never take away anything that needs to be ironed, I stick to three colours and I research where I'm going.
But I never take away something I'd be upset to lose.
Do you have a travel lucky charm?
I always put a red ribbon on my suitcase for positive travel feng shui – and you see it first on the baggage belt.
Most embarrassing moment on Getaway?
I name dropped to the person I was name dropping about. I was in Tamar Valley (Tasmania) doing a story on a beautiful vineyard and was told I was going around with the groundsman Andy.
So I met this quietly spoken guy and he started to talk about wine. I tried to one-up him with what I knew about the great doctor Andrew Pirie, who basically revolutionised wine in that whole region. Andy the groundsman looked at me and said, yes, that's me.
Is it possible that you'll ever lose your wanderlust?
Definitely not! It gains in strength every year. My parents kicked off my travel bug – we travelled around Australia constantly – and I can only hope my children share my passion as well.
MORE: 
How they travel: Matt Moran, Neil Perry, Rosso