An Australian Traveller Character Profile on Australian whipcracking champion Andrew Thomas.
Whip it GOOD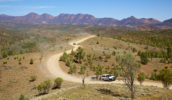 A cracking good yarn. Giving it a crack. Not all it's cracked up to be. Having a quick whip round. We could go on like this indefinitely. How about we just let Andrew Thomas explain what he does for a living? By Natalie Talisman.
Every time a whip cracks, that sound you hear is a mini sonic boom. That's one theory, anyway. Because of a whip's shape, the whipping movement creates a vacuum as it travels from the thicker handle to the thinner tip, and the crack emerges as that vacuum is filled with air. Another theory suggests that sonic boom is due to the increasing speed of the whip.
But enough science. A man who knows much more about whipcracking as a sport and art form is Andrew Thomas, three-time and current Australian Men's Whipcracking Champion and holder of the Guinness Book of Records title for most whip cracks with one hand in one minute (232, in case you were wondering).
Born in Singleton, an hour north of Newcastle with the vineyards of the Hunter right around the corner, Andrew was surrounded by cattle, sheep and horses as a child. To this day stockmen around Australia maintain their skills as whip handlers. Perhaps not as much as they once did, but it's not a skill that's dying out. So, drawn as kids are to things both loud and potentially lethal, Andrew and his mates took to mucking around with whips, seeing who could split the air with the mightiest crack. At age 14 he was given his very first pair of matching whips from a friend, then tagged along with local whip maker Ron Hardinge to a competition in Canberra. Ron was headed there anyway, to find customers for his whips at the big show. After some urging, Andrew decided to give the competition a crack (so to speak), and came second overall. This, more than anything, gave him the confidence to carry on.
While whipcracking is traditionally a tool of the trade for stockmen, it's taken on a life of its own as a performance art and on the competition circuit. For these you need ten solid go-to tricks, then you're up for a minute of freestyle (five with each hand, to prove dexterity), then it's the targets – polystyrene cups that attract three points for severing in half, two points for knocking over, one for just clipping, and zero for missing. As everyone knows, it's the freestyle where the big money really changes hands – and this is where Andrew shines. He can imitate a horse's hoof beats, slowly changing from a walk, to a trot, to a canter, to a full gallop. Cracking out nursery rhymes is another speciality. Mary Had A Little Lamb. Baa Baa Black Sheep. Watch him work and you'll recognise dozens more. (And it's not just the art of whips Andrew's mastered – he also rides a unicycle as part of his act.)
---
"the big day out and whipcracking don't exactly mesh," says andrew. but his country style was very well received.

---
But, as much fun as all that sounds, try having a seven-metre bullock whip flash round and catch you right down the middle of your face. This was Andrew's worst injury so far, and it "bloody hurt." And how about being overseas with a thick Aussie accent, trying to explain what you do for a living? Andrew has been mistaken variously for a wick crapper, a wop cracker and a few other unsavouries. "It's hard for people to realise what a whip is and what I do," he explains. "It's just not a familiar item overseas. Throw in the language barrier and I'm always being told to slow down and speak clearer. No slang at all. It's always the little words that you get stuck on. Like 'G'day' or 'whip'."
When it comes to his most unusual whipcracking gig, though, Andrew is on terra far firma, instantly nominating that granddaddy of Aussie music festivals, the Big Day Out. People tend to be very surprised that Andrew has cracked at a venue synonymous with alternative punk and rock music. "The BDO and whipcracking don't exactly mesh," he says. But his country style was very well received.
A distinctly polar performance for Andrew (but coincidentally at the very same venue: Sydney Olympic Stadium) was whipcracking as part of the Tin Symphony during the Sydney 2000 Opening Ceremony. Andrew and 40 other whip crackers strutted their stuff along with all the other icons of pure Australiana – stockmen, a stilt-walking Ned Kelly, wood choppers, corrugated iron tanks, Victor mowers, hills hoists, the lot – in a display of synchronised cracking the likes of which hasn't been seen before or since. He recalls the night: "Imagine being at the noisiest concert, standing right in the middle, feeling super crowded even though the nearest person is 15 feet away. You could see the night stars, right up past the lights of the crowds. It was an amazing feeling of being at once confined and crowded, but at the same time alone and isolated. It was overwhelming. I've never felt that since."
Back on the ground, Andrew's talents will continue to take him to agricultural shows, schools, fetes and – yes – even high rise rooftops around the country and overseas. He has a hankering to get to Calgary in Canada one day, for their Stampede Ten-Day Rodeo. "It's advertised as the greatest show on Earth," he says. "I'd like to see if that's true."
He'll always come back home, though. Australia has left its mark on the man. "It's not until you travel overseas that you see how lucky we are and how much we take things for granted," Andrew says. "And in Australia the two biggest things we take for granted are the blue sky and the stars."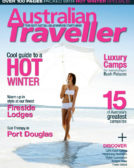 Enjoy this article?
You can find it in Issue 16 along with
loads of other great stories and tips.