Couples without children have twice the money to spend on Australian holiday ideas, with none of the complications.
By Alison Plummer Martin
Earplugs may seem wildly out of place on Queensland's Wilson Island (www.wilsonisland.com), but they're supplied in case you need them at night to block out the extraordinary sounds of the wildlife. Wilson – at just five hectares and only 40 minutes from nearby Heron Island – may be a tiny coral dot in the ocean, but it's a breeding ground for turtles and a nesting place for seabirds in their thousands. Just 12 people are castaway here in luxury tents built on timber platforms, with king-sized beds facing the sea. (The satellite ensuites are in a separate shower block but are named to correspond with the rooms for a sense of privacy.) Don't be surprised if you find turtles digging up the pathway on the way back from dinner, or if you're woken by the mutton birds' repertoire of wails and moans. Luckily, days are as lazy as you like with plenty of time to lie in a hammock, snorkel or just sit on the shore contemplating the ocean.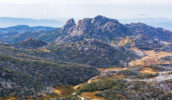 Don't fancy the sea? Then find a place on a river somewhere and spend your time kayaking, fishing, messing about in boats or watching the sunset, glass of wine in hand. NSW's Hawkesbury River (www.hawkesburyriver.com) has cottages, houses and a boatshed for rent just an hour from Sydney. Check out the website to look at properties such as Ambient, Beach Cove and Amaroo. Or, if bushwalking is your bag, how about combining it with the spectacular Tasmanian coastline on the Bay of Fires Walk (www.bayoffires.com.au)? The four-day guided walk takes you around the spectacular bay in Mount William National Park and is perfectly complemented by the contemporary architectural lines of the Bay of Fires Lodge built from timber and glass, where you stay for two nights after a night at the Forester Beach Camp.
There's no place like the city in summer, when most people have disappeared for the school holidays. The Sydney Festival 2006 will provide plenty of entertainment with productions such as Canadian performing arts alchemist Robert Lepage's latest work, The Andersen Project(www.sydneyfestival.org.au). And where to stay? Adina Apartments and Vibe Hotels are two great, affordable accommodation options with a modern edge (www.vibehotels.com.au and www.adinahotels.com).
In the mood for some wine tasting? Victoria's Mornington Peninsula has a new trail to follow, with maps available from tourism offices (www.visitvictoria.com.au). Or you could discover South Australia's Limestone Coast, which has its own vineyards and is close to the Coonawarra, and features fabulous houses to rent such as Salty Joes at Robe or romantic Honeyfield House at Mount Benson. Discover the Coorong National Park here, too, with its brilliant bird and wildlife species (Coorong Nature Tours: [08] 8574 0037).
And if all else fails, how about a fitness splurge? Book into a health spa and emerge renewed, ready to face the New Year. It's difficult to feel better than after a week-long overhaul at The Golden Door Health Retreat in Queensland, where exercise is the order of the day, along with self-help sessions and pampering therapies (www.goldendoor.com.au). Or check out The Golden Door Health Retreat – Elysia in the NSW Hunter Valley, with hotel spa stays from two days and a wide range of programs in stylish surrounds. And last but not least, it's full steam ahead at Peppers Springs Resort in Victoria's Hepburn Springs, featuring steam rooms and open-air plunge pools (www.peppers.com.au).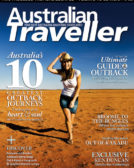 Enjoy this article?
You can find it in Issue 21 along with
loads of other great stories and tips.