Chris Smith explores the Four Bs of great (and not so great) family holiday touring: Byron, Bangalow, Broadwater and Bulahdelah.  
A long way from Byron
Sometimes, it all falls into place. The resort, the villas, the swimming, the pampering, the service and even the romance.
HAVE YOUR SAY
Got a question or comment for Chris? Email csmith@australiantraveller.com and tune in to 2GB 873 in Sydney and MTR 1377 in Melbourne every weekday afternoon.
I have found Holiday Nirvana on the mainland of Australia. It is The Byron at Byron, a 45-acre subtropical rainforest spa resort featuring 92 incredible one-bedroom, elevated luxury suites. It's only a wave ride from Byron, but you could be anywhere. The day spa is six stars and counting and the outdoor/indoor lounge bar cum pool area is second to none. I'm raving for good reason – because it inspires tropical romance like no other destination.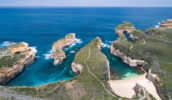 It's no coincidence that the managers have worked within the Aman Resorts chain, and experience counts big time in this business. The man with the Midas touch, retail giant Gerry Harvey, owns The Byron at Byron, so there's another dead-set giveaway. It also recently snagged Best Resort Under 100 Rooms at The Australian newspaper's annual Travel & Tourism Awards. Oh and by the way, if you can't enough of that newfound romance, take a drive up to the magnificent quaint village of Bangalow. The 1940s pub, the cafes and the array of quirky shops among rows of Federation facades are all worth it. Then get back and hang up that DO NOT DISTURB sign, pronto.
Shipwrecked on the Broadwater
There's a very good reason why skippers need a boat licence. And I found that out in the most embarrassing way recently. We hired out one of those small houseboats to cruise around the Broadwater on the Gold Coast. "No licence required" read the sign. You beauty! It had a BBQ onboard, easy controls and the manoeuvrability to anchor on sandy beaches for a dip. A great idea . . . until we ran aground. Yours truly was at the helm and didn't I cop it from all and sundry. It's a good lesson and a trap for young players: read your map properly before venturing through the channels, or even better, get your boat licence in preparation for all explorations. Otherwise you'll discover your own Gilligan's Island.
The big deal about Bulahdelah
There are some spots located on various highways around Australia that become bustling tourist destinations by accident. One of the greatest examples of these is Bulahdelah on the NSW mid-north coast. Well, it's not even on the coast – it's next to the muddy Myall River, and has that smooth, constant hum of b-doubles and semi trailers rocking by every five seconds. But it's the perfect three-hour stop from Sydney, when the tummy rumbles and the back stiffens up.
What sensational pies and pastries! What superb coffee! And the locals who congregate outside the Plough Inn Hotel are a hoot. And they become even more entertaining as the sun sets. It's amazing how many friends you'll bump into in Stroud Street. It's become the most popular truck stop in NSW.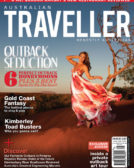 Enjoy this article?
You can find it in Issue 33 along with
loads of other great stories and tips.