Just what makes the perfect getaway?
It's the first week back in the AT office after the Christmas break and it seems we're a fussy bunch.
While I enjoyed laying low, catching up with family and friends, there was a pang of jealousy when I heard about the adventures had by our editor Georgia, who was gallivanting overseas, before a whirlwind trip up and down and NSW coast. However, she claims to have returned to the office weary as ever, envious of my quality down time.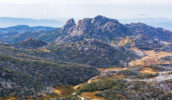 This 'grass is always greener' mentality appeared again and again as many other AT team members also ended their holiday tales with "I wish…." or "if only…"
But this annual dilemma of where to spend our prized end-of-year break, envy-free, isn't constricted to just us, surely. Right…?
It's a fleeting time for many, where there is an array of options, but only one can be chosen, pending time.
Not to mention the inevitability now of social media "brag shots", giving your holiday jealousy an extra kick.
So do you spend this precious period catching up with loved ones for instance, or tick off a bucket-list experience with a trip to that must-see destination? Family/friends or travel? Relaxation or adventure? Home or away? Low-cost or extravagant? There are definite pros and cons to every option.
Of course, what makes an ideal holiday for one person may be very unpleasant for another. Personally, the answer would be for all my nearest and dearest to embark on a group getaway to an exciting new place. But let's face it, that's rarely a feasible option.
So, here are a few pointers to help keep that green-eyed monster at bay and have yourself, well, a really good holiday:
Be realistic –  unfortunately, you can't do it all. Quit stressing about trying to have "the perfect holiday" and what boxes you haven't ticked, and focus on what can be simply a really wonderful time where you are.
Commit – whatever you decide, commit to it. Don't dilly-dally swaying between options. Make a decision, go with it and enjoy it for all it's worth. Forget all the 'what if's.
Plan for variety – particularly for longer holidays, ensure your break has the option for diversity. For example, there should be opportunity to spend a day just lying around and reading a book, as well as the flexibility to go out, get active and explore. After all, it is summer.
Photograph for you – holiday snaps should be for your own record, cementing memories and capturing those feel-good times. It's not about interrupting every moment with a Facebook update. So just relax, enjoy your time, and by all means if the time calls for it, photograph to your heart's content.
Be inspired – the best holidays of all are the ones that leave us inspired. Be it a new way of thinking, a hobby, a fresh appreciation for nature, or maybe a new-found thankfulness for loved ones. So wherever your next holiday takes you, open yourself up to insight.