Australian Traveller invites legendary chef and artist Peter Russell-Clarke to share a few kitchen tales.

When you've cooked for actual British royalty, serving people who BEHAVE as though they're royalty becomes child's play. Legendary chef, author and artist Peter Russell-Clarke opens wide his kitchen door . . .

G'day. The peacocks had defecated on the outside tables, so my wife thought it was safer to usher the new arrivals to our Restaurant Gallery inside. Anyway, inside they might buy one of the paintings, which hung around the walls.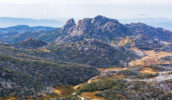 The first customer through the door was a frail, white-haired, tweed-skirted octogenarian. "A medium porterhouse steak," she declared. "No vegetables. No sauce of any kind and no salt. A salad of baby spinach leaves with a dressing of olive oil, a splash of wine vinegar and the juice of half a Lisbon lemon," she smiled. "Will your husband manage that, dear? Oh, and no oak in the wine."
She nodded to herself with pleasure, which my wife took as her dismissal.
"Don't overcook the steak," my wife advised me. "And no blue, either," she smiled as she scurried off to perform her other duties.
Easy. I cooked a medium steak. It was taken in and came back as though on a string. "Not cooked enough!" my wife snapped. So I cooked it until there wasn't a skerrick of pink. In it went. Back it came. "Cook the bloody thing more," I was instructed. That happened three times, so I cooked the poor porterhouse until it was as dry as a fire fighter's palate. An hour later, the kitchen door opened and the little old lady appeared. "You're the only chef who knows how to cook a medium steak. I'll be back, young man," she said before patting me on the cheek and leaving.
The lesson, if you're a restaurateur, is: regardless of one's own likes and beliefs, one should do one's best to satisfy the customer. That is unless one's had a bad day or a ripper party the night before.
I remember organising a retrospective exhibition of my paintings. The idea was to fill invited guests with good tucker and plenty of grog. Hopefully, once the wine had done its job, the diners would be receptive to the charm and artistic merit of my canvasses.
The strategy was to serve chilled beetroot soup with a flick of Ceylonese curry and a swirl of sour cream, served with a Spanish cherry. Then shucked oysters topped with a touch of taramasalata and a soupcon of Chinese plum sauce helped by a chilled Sauvignon Blanc. And, looking like a salmon sandwich, a thin slice of tuna cooked to boast a pink strip in its middle, sprinkled with a little garlic salt and served with a Pinot Noir. Then lamb noisettes cooked moist and flavoured with cumin and coriander with garlic juice accompanied by a little uncomplicated green salad. This was to be offered with a Shiraz from the granite country of Heathcote. The cheese was a soft Gippsland blue and a WA cheddar. The Shiraz continued through the cheese.
Before the coffee, I planned bananas, halved, cooked in unsalted butter, Cherry Brandy, lemon juice, brown sugar and fresh cream. That was to be flambéed and served with a sparkling Pinot Noir. Easy? You'd think so. But one customer, a hospital matron by trade, didn't like beetroot. I told her the menu had been emailed to her so she knew what was offered, knew she didn't like beetroot and knew before she arrived. "Therefore, drink your bloody beetroot soup or leave it."
"Do I get a refund if I eat the rest but not the soup?" she enquired. "No," I snarled. "What you get is the lemonade and sars."
"How dare you, you common little cook!?" she shouted, standing up and throwing out her Everest-sized bosom. Half the restaurant cheered, the other half hissed. I'm not sure which of us received which accolade. While I considered my options, she burst into tears. Her husband dutifully patted her hand and muttered, "Buy the painting you wanted and let's leave."
But she already had. Her great bulk swept out the door, leaving a strangled "up yours!" hanging in the air. My wife belted me with the asparagus steamer and ordered me back into the kitchen. "Does anyone else not like beetroot?" she smiled sweetly to the room.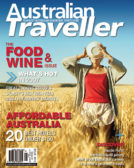 Enjoy this article?
You can find it in Issue 13 along with
loads of other great stories and tips.