Annual Vanilla Slice Day in Ouyen, northwestern Victoria
Consuming Passions
A Slice of Country Life
Let them eat cake, let them do it each September, and let the entries pour in from far and wide: it's annual Vanilla Slice Day in northwestern Victoria.
Words and images by Ian Kenins
Ouyen, like a hundred and more towns throughout rural Australia, has been doing it tough for a long time. Its major problem lies with where it lies, in Victoria's dustbowl Mallee region in the upper western corner of the state. During the 1990s when the drought and the recession kicked in, businesses went bust and people moved out. Then the state government put the boot in, dissolving the shire council and terminating the train line to Melbourne.
Held responsible for some of the town's malaise, it was a brave Jeff Kennett who visited Ouyen in 1997. One agitated local suggested the Premier could atone for his cutbacks by awarding them the F1 grand prix. Kennett declined, explaining that a remote farming community probably lacked the necessary infrastructure a multi million-dollar event attracting 400,000 spectators required. However, he did promise something for the town's social calendar, with no idea what that might be.
As it turned out, two vanilla slices became struggling Ouyen's one slice of luck. Before leaving town, Kennett stopped by the local bakery to sample a couple of Dennis Gniel's custard concoctions. The satisfied Premier declared them the best he'd ever eaten, and announced the next day that Ouyen would host Australia's first vanilla slice bake-off. "We'd never seen anything like it," exclaimed Gniel's ex-wife, Mandy. "There were busloads of tourists and television cameras everywhere."
Suddenly, Ouyen was even more like a hundred and more towns throughout Australia – it had its very own novelty event. Struggling towns have come to view offbeat events as a panacea. Lizard races, frog races, nude races, scarecrow contests, gumboot throwing, eel skinning – all have been staged to lure tourists from cities and surrounding regions, some with more success than others.
Gniel's son-in-law, Paul Nihill, who bought the Ouyen bakery late last year, made 2700 slices for the 2005 event, held in September; with queues winding out onto the street, most were sold by day's end. The hosts, who have yet to win a place in the competition's eight-year history, weren't the only ones smiling. Hotels were booked out by cyclists competing in the Murray River Tour, the $2 shop had its best day before Christmas, department store doily sales more than doubled, and the Ouyen Diabetics Group ignored the irony and launched a new cookbook on the sugar-celebrated occasion.
The benefits don't end at Ouyen's parched boundaries. Second and third place-getters build large window displays in return for some town pride and increased sales. But the real spoils go to the victor: when Bourke's Bakehouse got the judges' nod in 2003, they went from selling 20,000 slices a year to 80,000. Says proprietor Adam Bourke, "You do the sums on 60,000 times $2.40. It's certainly made a difference."
John Parsons' Bayswater Cake Kitchen saw sales surge by 500 percent when they took out first prize in 1999. The four-time winner now supplies 85 dozen vanilla slices a day to 45 outlets throughout Victoria. If farmers spent less time cropping and more time in the kitchen, life would be so much sweeter. But not too sweet. Jason Riley, senior judge at Ouyen's last three bake-offs, says vanilla slices are sweet enough as they are: "Bakers shouldn't get too funky with their personal touches. The icing must have a shiny fondant finish, the custard an even vanilla taste – not too soft – and the base should be flaky and crispy. But not hard, otherwise the custard ends up on your lap." And, according to Kennett's wife Felicity: "The icing should be white. None of this Labor pinko stuff."
This year, placed on rows of tables inside a marquee on Ouyen's main street were 19 professional entries for Riley and his co-judge Peter Eglinton to sample. The less qualified judges were given the unenviable task of tasting dozens of amateur and school entries, some of which had weathered the long journey not at all well, melting in the warm Ouyen sunshine.
While nervous bakers waited outside, Riley and Eglinton eyeballed, smelled, tasted, savoured, then spat out each vanilla slice with all the snobbery you'd expect of wine connoisseurs. Each entry was then given a score out of ten for symmetry, volume, colour, taste and mouth-feel before a final consultation vindicated John Parsons' decision to "juice up" his entry by combining two different custards.
A small crowd gathered late in the afternoon around the main roundabout to hear Kennett extol the therapeutic value of small townsfolk getting together. He praised local business leaders and competing bakers, recounted his role in the birth of Vanilla Slice Day, then announced the winner. Most clapped, others thanked Kennett for attending, some even took snapshots, and dozens scurried off to scoop up the last vanilla slices from Parsons' tent stall. The rest got into their cars and drove home, some across the railway line, not slowing to check for trains.
*Got your own even quirkier local event? Make a Reader Contribution by
e-mailing editor@australiantraveller.com and we'll make it worth your while.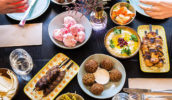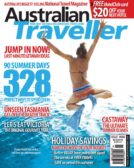 Enjoy this article?
You can find it in Issue 6 along with
loads of other great stories and tips.