Australian Traveller looks at the state of the union for cycling holidays in Australia.
Easy Riders — Cycling Holidays Made Easy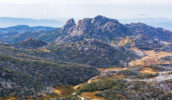 Sue Webber has holidayed on her trusty treadly in every corner of Australia, so trust her when she says there's a cycling holiday out there just for you.
There are so many cycling holidays to choose from in Australia – a leisurely ride through vineyards with regular stops for tastings; an adventure into the outback by bike; a social cycle to raise money for charity; or a mass ride with hundreds of other cyclists – that there simply must be one for you.
You may have an idea of where you want to ride, but what about your bike? Is your mountain bike yearning to escape the city in search of dirt tracks through the bush? Is your hybrid ready to venture beyond the shops to new towns and country roads? Is your roadie restless for a long fast run on endless tarmac? Or, if it's high time for a holiday romance, why not leave old reliable at home and enjoy some vacation infidelity with a different two-wheeled companion?
Spin the wheel
If you think of cycling in terms of hours rather than days, then it's more fun to choose a low gear and cruise your way around by bike. Vineyards and bicycles go together like crackers and cheese. You'll find operators who'll take you on guided vineyard visits and even bring your bottles home for you.
The Hunter, Swan and Barossa Valleys all lend themselves to bicycle tastings and local companies are on hand to hire a bike and take you on easy rides around the vines. Don't let your tasting get too enthusiastic, though; blood alcohol limits apply on bikes too.
When you're ready to think about cycling without a fortifying beverage every couple of klicks, then how about a holiday where bikes are everyday transport? Islands deserve slow discovery and Rottnest, Norfolk and Lord Howe are a few of great places to explore by bike. How far wrong can you go? Just keep the sea over one shoulder and carry on riding until you get home. Both islands have little traffic, a strong cycling culture and places to rent bikes for a day or a week.
If you're thinking leisurely cycling, remember: flat doesn't necessarily equal easy. Trying tackling flat roads into a headwind for a week and you'll opt for a mountain climb any day. At least that way you get a freewheel down.
Hunter Valley // www.huntervalleycycling.com.au
Swan Valley // www.pedaloz.com.au
Barossa Valley // www.bccycletours.com.au
Charity rides
If you need a good reason to ride, why not turn your pedals to turn a charitable profit? The annual Far North Queensland Wilderness Tour takes you through World Heritage areas and your payment helps to raise funds for the Cairns and Far North Environment Centre. It's a camping tour with meals included, but there's a support vehicle to carry your gear – and you and your bike if it all gets too much.
The Silver City Bush Treadlers have raised more than $180,000 for the Royal Flying Doctor Service over the past 11 years. This annual outback ride is more like a mobile party cycling from station to station. The ride takes a different route around Broken Hill each year and it's a great way to explore the outback, meet the people who live and work there and raise money for a good cause.
You'll need to take your own bike for these rides, so before you go make sure you have it serviced because there's no joy in being ready to ride when your bike isn't.
Cairns & Far North Environment Centre // www.cafnec.org.au
Silver City Bush Treadlers // (08) 8087 2475
Outback adventures
Some of the most interesting places in Australia are down a dirt track, but exploring the vast interior by bike needn't be a hard slog. There are companies to guide and support you, and even cook your dinner and mend your punctures.
WA's Munda Biddi trail is a long distance cycling route that will take you through spectacular forests and wine-growing regions, and Pedal Oz is a great independent tour company for this area that will give you all the gear you need, plus plenty of advice about the ride.
Another quality outfit is Remote Outback Cycle Tours, which offer fully supported adventure outings, including bike and camping gear hire. They're owned by The Adventure Collective, who also run tours through remote areas of the country via Outbike and girl+bike (focusing on women primarily).
SA's Flinders Ranges are another mountain bike touring hotspot, with the Mawson Trail running from Adelaide to Blinman through the vineyards and into the outback. Barking Gecko run a guided five-day Mawson Tour from Adelaide to Wilpena Pound during February and March. Mountain biking tours can be great fun but you may need to develop your off-road skills before you go. Get some practise on dirt roads and forestry tracks to get the feel of it. Important: don't forget to develop a special look of smug superiority to flash to 4WDs when you pass them in the bush.
Adventure Collective // www.adventurecollective.com.au
Pedal Oz // www.pedaloz.com.au
Barking Gecko // www.barkinggeckotours.com.au
Mass rides
A mass bike ride is like nothing else. Hundreds, sometimes thousands of cyclists get together for a multi-day tour that includes daily rides as well as a travelling life support system with kitchens, bathrooms, entertainment, massage and everything else the touring cyclist needs. If you want to ride with a group or meet other cyclists, these are the rides for you. On some there's a choice of camping or other lodgings and your luggage is carried for you.
Bicycle Victoria is Australia's biggest bicycle holiday organiser with annual rides in Victoria and other states. This year's Great Victorian Bike Ride is from Phillip Island to Buchan over nine days in November and December. There's also a NSW ride, the Great Escapade, from Katoomba in the Blue Mountains to Newcastle via Mudgee and the Hunter Valley over 13 days in March and April 2008. (Last year's epic ride was in WA; see the Reader Story on page 140 for a wrap up of that one – it was a beauty.) Bicycle Qld organise a mass ride called Cycle Queensland and Bicycle SA run their own annual tour, which in October 2007 embarks from the Grampians and heads towards gorgeous Port Fairy.
Surviving a mass ride is all about finding your gear and getting a good night's sleep, so tie a colourful ribbon to your luggage and choose a quiet spot for your tent.
Great Victorian Bike Ride // www.greatvic.com.au
Great Escapade // www.greatescapade.com.au
Bicycle Qld // www.bq.org.au
Bicycle SA // www.bikesa.asn.au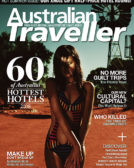 Enjoy this article?
You can find it in Issue 18 along with
loads of other great stories and tips.