AT Editor Greg Barton road tests the Digishow Handheld Projector to see if it has any useful travel applications (other than projecting PS3 games onto his neighbour's fence).

Handheld projectors are a relative newcomer to the technology world. The reason for their existence is probably tied to two things: the desire for designers from the technical world to miniaturise anything they can possible get their hands on, and the fact that – since a lot of gadgets have been miniaturised, they've ended up with screens that are too tiny, thus creating the need for projectors in the first place. (Agreed, the modern world is a crazy ride.)
So what you now have is a lot of very tiny storage devices with the sheer oomph to run some pretty sophisticated displays (movies, presentations etc), and the Digishow is one neat way of being able to expand your viewing screen (theoretically) infinitely.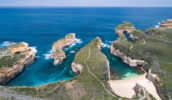 Of course rather than an infinitely large display, about two metres appears to be the optimum distance to place this okay-ish projector away from your desired surface: the luminosity isn't too flash (8-10 lumens, where the top-of-the-line home cinema projectors these days go up to 6400 lumens), but that will no doubt improve with later models.
I tested the Digishow by watching a movie direct from my iPod to the lounge room wall, couldn't get it to work with a 3G iPhone, managed to play some Grand Theft Auto with it running straight from a PS3, and also watched some Flight of the Conchords by running it straight from the back of a TV. It's certainly great fun – although of course you wouldn't like to rely on its tiny mono speaker (best to run the sound through some other amplifying source, or headphones.) But no way is this thing high performance.
The biggest thrill is that you can go: "Hey! I'm projecting my game of GTAIV right onto (insert surface here)!". I tried various things: my hand (interesting); the neighbour's fence (probably the most fun); various walls; some Venetian blinds (abstract); and a few household pets (cats don't know what to make of this).
The verdict appears to be: if you're after the Digishow for entertainment purposes, it's a novelty that will wear off reasonably quickly. If you're thinking of using it for boardroom presentations, you better be prepared for some eye-rolling and people thinking you're the biggest twit in the room.
SPECS: Digishow Handheld Projector
– RRP $400
– built-in rechargeable lithium battery
– 2hr battery life for continuous projecting
– mono speaker
– resolution is VGA 640×480 pixels
– manual focus
– weighs just 140grams with battery
– size is around that of an iPod, only thicker
– LED light source of around 8-10 lumens
HAVE YOUR SAY: Have you had a play around with the new Digishow Handheld Projector? What do you think of the technology in general? Do you think it could have useful applications in the travel world? Sign in free to the AT Website and post your comments below!