Sick of disappointing holiday pics? So was Alex Rampano. So she bought herself a digital camera. But how to use the darn thing? It was after returning home from yet another holiday to flick back through mediocre-quality photos that I decided to look into buying a digital SLR camera. I scoured countless reviews, only to find that researching and actually purchasing my Canon EOS 1000D twin-lens kit was the easy part.
The amount of information out there can be daunting, but I looked for specialist articles or consumer interest magazines such as Australian CHOICE for help finding mine – anything that reviewed a variety of cameras and provided unbiased feedback as well as recommendations.
When purchasing a digital SLR, it's a good idea to stick with a brand you're already familiar with as an automatic camera (such as Nikon or Canon) so that the controls are easy to recognise and access, making the transition to manual functions a little easier.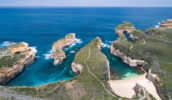 Keep in mind when purchasing your camera that you may need extra accessories, depending on your photographic intentions. Basic additions should include a camera bag – possibly one with room for extra lenses if you plan to buy more in the future – extended warranty and memory SD cards.
If you are planning on taking landscape or night-time photos, a tripod is a handy piece of equipment for camera stability. UV filters are also useful as they protect the lens of the camera and cost a mere fraction of the price to replace if they get scratched or damaged. Don't be afraid to ask for a discount if buying everything on the day and compare camera prices across a number of stores before making a purchase.
After buying your camera, taking it home and tipping everything out all over the lounge room floor, you may begin pulling your hair out as you read through the manual and come across words such as aperture, ISO, shutter speed, white balance, depth of field and histogram.
The new jargon and functions that come with SLR cameras can be overwhelming, which is when digital SLR camera courses come in handy. Depending on the time and money you have to spend on a course, there is a wide variety to choose from.
Due to the amount of information there is to learn, half-day and even full-day courses can be insufficient to take everything in if you are an absolute beginner. Starting out with a theory-based course will help enhance your understanding and confidence with your camera's functions.
I attended a course run by Andrew Thomasson from Focus10 Photography in Sydney, which charges $290 for a full-day course. For the money, it offers only a brief introduction and explanation of the camera features, before sending students out for the rest of the day, walking around Sydney taking mainly portrait photos.
This course would be suited to those who already have an understating of how aperture, shutter speed and ISO affects the image and are more interested in learning about shot composition.
Tam Steele from Studio 22 in Newcastle provides a more thorough focus on the camera's functions for just $175. His two-part course was spread over two weeks, which allowed students time to absorb information and put it into practise.
There is a lot to take in both before and after purchasing an SLR camera and it is an expensive hobby, but the results are well worth it. Take the time to learn slowly and don't be afraid to experiment with the settings on your camera. You will be amazed how differently you will view even your own backyard, when you peer through the eye of a new 18-55mm lens.
The Details:
Tam Steele
Beginner Photography Course
(04) 49 887 467
steelephotography.com.au

Andrew Thomasson:
Digital 1 – Introductory Course
0407 278 809
Andy Piggot
Sydney Beginners Photo Workshop (3hrs – $95) or
One Day Photo Workshop (6hrs – $195)
047 841 540

John Harrison
Hunter Valley Digital One Photography and Photoshop Courses (3hrs – $80)
CHOICE Magazine
Download photo editing software (legally) online from
http://download.cnet.com/windows/
Clink on the 'Digital Photo Software' link under the Categories tab