A packing list might be handy, if she could remember where she put it… Nikki Wallman prepares for the Outback
Last month, my husband and I started planning our first camping trip together. I was brought up on the bliss of annual family camping holidays, so I'm fairly excited about the idea. But I'm also a little nervous. Unfortunately for me, I managed to marry someone who is as chronically forgetful as I am… and when you're 300 kilometres from anywhere, that's a possible problem.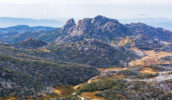 Our highlights reel includes the time I travelled from Sydney to a wedding in Byron Bay, only to realise the nude slip to go under my gorgeous, expensive, and see-through white lace shift dress was still hanging in the bathroom at home… 20 minutes before we were due at the ceremony.
Or the time I packed a denim jacket as my only kind of cover-up. Which would have been fine, except the only bottoms I had packed were denim jeans, denim shorts, and a denim mini. (This was before double-denim became 'ironically cool' again).
And the Christmas trip where I forgot the presents… well, I think that speaks for itself.
Of course, while I inevitably forget things, I also pack a ridiculous amount of stuff I will never need or use on holiday. Repeat offenders include high heels (just in case); that third bikini (just unnecessary); and full gym gear (good intentions, but it just doesn't happen).
My husband, in the great male tradition of chronic underpacking, is worse than me. I'm not sure whether he actually forgets stuff, or is doggedly chasing some kind of minimalist enlightenment, but in one particularly harrowing experience, the only jumper he packed for our mid-winter trip to Melbourne was the footy jersey of his beloved Manly Sea Eagles NRL team.
There is no rivalry more bitter than that of Manly and the Melbourne Storm, and we spent the whole weekend being aggressively stared out of pubs, cafés and anywhere other adult males happened to be lurking. And don't get me started on the toothpaste. Every time – every single time – each of us thinks the other has packed it, until our first night away when we simultaneously ask each other: "Where's the toothpaste?" as we face-palm ourselves in unison. It's like re-living the movie Dumb & Dumber.
But one thing each of these holidays had in common – besides our astounding talent for absent mindedness – is that these destinations had shops. I confess, I've been known to deliberately not pack something, in order to hit the shops. "Oops!", I'll cry sheepishly as we unpack at our destination. "I've forgotten to pack shoes! Off to the shops it is then!"
But on this trip, that's not going to fly. Whatever we forget, we go without.
Admittedly, it's a liberating thought. Because honestly – how much do we really need? Some days, I feel I'm drowning in stuff. Stuff in the wardrobe; stuff in the bathroom; stuff in the kitchen; stuff in my handbag.
Deep down, I've been yearning for a trip like this; like the camping trips of my childhood, simple and carefree and dirty – the days designed to exhaust you with activity that involves nothing but playing.
The nights, sitting mesmerised not by the TV or an iPad, but a campfire in the vast, red nothingness; the still, cool air casting off the heat of day; stars clean and bright against the yawning black bowl of the desert sky.
The deep, growling, honest hunger that comes from putting up tents and taking long walks and forgetting to eat because you're too busy admiring the spectacular surrounds. The sheer pleasure and satisfaction of fried eggs on a hot plate; damper; toasted marshmallows.
Forget about packing the perfect day-to-night capsule wardrobe, complete with four pairs of shoes, accessories and makeup.
Grab some pants, shorts, boots, a few t-shirts. A rugged jumper for chilly nights. A hat. An open mind. A journal. A preparedness to rediscover the simple joys of conversation, stimulated by nothing other than a desire to unplug from the everyday and reconnect with the day in front of you.
Oh – and some toothpaste. Happy camping.