It's only October and already Australian Traveller is spotting ten-packs of Christmas cards and sparkly baubles in the odd shop window. It could be time to start preparing presents. Wrapping it up early



It's only October and already AT is spotting ten-packs of Christmas cards and sparkly baubles in the odd shop window. It could be time to start preparing presents.
Each year Christmas seems to come faster, and each time it becomes harder to find the right gift for those people who "have everything". AT is making things easier, suggesting four fancy (and rather exclusive) gifts with brilliant excuses to travel.


In giving, you too can receive, especially if it's a romantic present for you and your other half. Escape to Merimbula on NSW's Sapphire Coast for a little luxury – not a diamond, but very close. Enjoy a swim, snorkel or stroll at one of the many never-ending, white sandy beaches or lagoons. On returning to your sleek and spacious Luxury Penthouse you'll be able to curl up on your latte leather lounge or test out the designer Smeg appliances in your sheer white kitchen. To end the night, enjoy a moonlit meal overlooking Merimbula beach on one of your two balconies. The three-bedroom luxury apartments start at $525 for two nights, but if you're happy with a two-bedroom apartment, prices start at $325 for the two nights. www.coastresort.com.au
Up for a little fun? Why not do the locomotion! Another gift that gives both ways is a five-star rail journey through rugged and breathtaking backdrops of Australia's outback. Choose one of eight itineraries with various superb stopovers and one-off events. And remember: this isn't your typical train, this is refined and elegant, complete with double bed and private ensuite cabins, five-star dining and 24-hour room service. Fares start at $6980. www.gsr.com.au
For the ultimate New Year's Eve, Sails restaurant on Sydney Harbour is offering a sumptuous wine and seven-course degustation dinner designed by acclaimed head chef Steven Skelly. If you're up for a fireworks fiesta with serious fine dining, Sails is one of the best locations to ring in the New Year. Stocking-sized gift certificates are available for $500 per person, and include all food and wine. Email functions@thesugargroup.com.au or visit www.sailsrestaurant.com.au

Another tasty treat with harbour views is available in ARIA restaurant, decked out with floor to ceiling windows and the freshest Australian cuisine. Having been granted the Two Chef's Hats award in Sydney Morning Herald's year 2000 and current Good Food Guide, it's the perfect evening for yet more twilight romance. A $350 voucher includes a three-course meal for two and bottle of wine from an award-winning wine list. www.ariarestaurant.com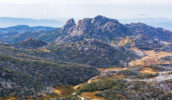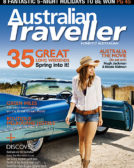 Enjoy this article?
You can find it in Issue 23 along with
loads of other great stories and tips.