HotelClub members can save 48% off the retail price and 25% off the regular subscription price to Australian Traveller magazine.

These are exclusive rates for HotelClub members ONLY and are not offered to the public.

Subscribe for 12 issues (Two Years) for just $49.95
Saves you more than $45 off the retail price.


Subscribe for 6 issues (One Year) for just $24.95
Saves you more than $22 off the retail price.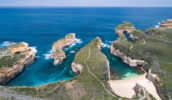 Simply use this promotional code
HC0609

when you check out of the Australian Traveller shop. It's that simple.

The nation's premier travel magazine Australian Traveller is your authoritative and trusted guide to this great country.

Written by Australians, for Australians travelling in Australia every issue is packed with reviews you can trust, spectacular journeys you can actually do and the best photography published in the country.
Australian Traveller is honestly Australian.
And now, as a HotelClub member you can receive Australian Traveller at prices not available to the public.

Four easy steps to taking up this exclusice HotelClub member offer.
Step 1
Select your subscription length
(You can order multiple subscriptions as gifts at this amazing rate)
Step 2
Enter the HC0609 promotional code in the Discount Coupons field
Step 3
Check out
Step 4
Process you credit card payment
If you have any difficulties at any time, please call 02 9281 6080 and speak with one of our subscription agents/.
It's that easy. Subscribe at these exclusive rates now.

Please note this offer is only valid for magazine delivery within Australia. You can order a subscription for delivery outside Australia, however these will be at non promotional rates.