Flora King tests out one of the three latest consumer DSLR cameras from Sony's Alpha range.
Sony's most recent consumer DSLR is designed to appeal to the enthusiast and the family user alike. Of three simultaneous new releases from the electronics giant's Alpha range, the A380 is the most advanced but – unlike many of its competitors who are marketing themselves on increased complexity and ever-higher resolution – it is a camera that prides itself on simplicity and accessibility, and which adheres to the motto that anyone can be a photographer.
Being a relative newcomer to the world of digital SLR photography, I was eager to test the motto and try the camera out. First impressions as I opened the box? A remarkably sleek, lightweight camera and – with only one command dial to scroll through menu options – not in the least bit intimidating. One flick of a switch and the camera responds swiftly, the 2.7 inch tilting LCD screen firing up in a flash, with schoolbook stick men demonstrating the effects of aperture and shutter speed, and a friendly on-screen help guide explaining each of the six scene selection modes.
While the idea is obviously to bring great photos to within reach of even the absolute novice, the 14.2 megapixel camera certainly succeeds in its quest for usability, and still manages to snap great quality images. The built-in anti-shake is an added plus, as is the incredibly fast live view mode and the eye start auto focus, which switches off the LCD's info display as the eye approaches the viewfinder.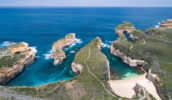 On the downside, however, while the camera has been styled for lightness, the design is a little plasticky, and the undersized hand grip simply too small for comfortable handling. The cheerful interface and constant on-screen explanations may be helpful to a beginner, but in the long run will probably just prevent the photographer from digging deeper in to the manual settings and exploring for themselves what the camera can actually do.
You can't help feeling with the A380 that the idea is just to switch to Auto mode and let the manufacturer do the work, instead of the person behind the lens. For those who ultimately just want a point-and-shoot that takes SLR-quality images, or who are interested in using only the most basic manual settings, then this camera would be a viable purchase. Any experienced photographer however, or anyone who genuinely wants to learn, progress, and be challenged, is unlikely to be won over.