Each issue Australian Traveller Magazine looks at everything food; including gourmet getaways, recent restaurants and a special new recipe to try. By Elisabeth Knowles.
NOW OPEN
If you're in Melbourne on business (or for a sneaky shopping trip) you're unlikely to be at a loss for where to eat. However, if you feel like something yum but casual, or it's a nice balmy evening, you might want check out new French-inspired bar restaurant Mr Mason, which has an outdoor terrace. 530 Collins St, Melbourne. mrmason.com.au
HUNT & GATHER
Get stuck into locally produced cheese, wine and charcuterie on a Gourmania Food Tour of Hobart and surrounds, including foodie heaven Salamanca Square. 9.30am-1.30pm Mon, Thurs, Fri. $120 per person. Bookings essential. 0419 180 113; gourmaniafoodtours.com.au
FAIR GAME
Learn the art of preparing wallaby, venison and hare from master butcher Craig Williams on Game Day (April 28) at The Red Feather Cooking School at heritage farm Haggerstone, 10 minutes east of Launceston. There's a maximum class size of ten, so get in early. The school holds various themed classes throughout the year, or just stay and check out the local wineries and golf courses, and go fly fishing on South Esk River (September to May). Class and accommodation package, $545 per person twinshare. 42 Main St Hadspen, Tas. (03) 6393 6506; redfeatherinn.com.au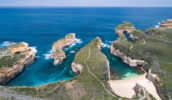 RECIPE
SWORDFISH CARPACCIO
South African-born Anston Fivaz took over executive chef duties at Wolgan Valley Resort & Spa in December last year. He's worked in Michelin-starred restaurants in Europe, including Claridges Hotel in Mayfair, and had his own restaurant in Dubai. He intends to bring a simple philosophy to the Wolgan kitchen – "quality regional, seasonal produce prepared simply but expertly to let the natural flavours shine." Here's how to prepare his swordfish carpaccio. Serves four:
INGREDIENTS
600g Fresh swordfish filleted (skin on)
10 pieces of pealed boiled baby potatoes
24 caper berries
Fresh basil for garnish
Extra virgin olive oil
10g fennel seeds
1 whole orange
40g sugar
50g Murray River pink salt
1 whole lemon
2 red bell peppers
Vanilla oil
METHOD
Vanilla oil: Prepare one day in advance. Place 1 vanilla pod (cut in half) in 250ml virgin olive oil. Heat slowly to 68 degrees. Allow to cool on the side naturally. Keep the vanilla pods for garnish. Swordfish carpaccio: Zest the orange and lemon (keep the juice). Combine the sugar, salt, fennel seeds, black pepper, orange juice, lemon juice, zest of orange and lemon. Pour the mixture over the fish. Cover with cling wrap. Leave for five hours. Peppers: Grill the peppers directly on a high flame (gas stove or barbecue) or deep fry in oil till skill changes colour. Place hot peppers in a zip-lock bag and rest for five minutes then peel off the skin and rinse under warm water. Pat dry, tip and tail then slice the peppers in even slices – 3mm x 3cm. To serve: Scrape the salt mixture from the fish and rinse under cold water. Pat dry with a tea towel. Slice the swordfish thinly – 1.5mm. Place on the plate (refer to picture). Warm the potatoes in vanilla oil and place on plate (refer to picture). Place a pepper on each swordfish slice then add a caper berry on top. Drizzle extra virgin olive oil over the fish and season with fresh grinded black pepper. Garnish with basil leaves
THE DETAILS
Wolgan Valley Resort & Spa. 2600 Wolgan Road, Wolgan Valley NSW. (02) 6350 1800;
Happy 10th birthday to Fratelli Paradiso, Sydney's beloved Italian bistro. If you haven't been there yet; consider this your reminder! 12-16 Challis Ave, Potts Point NSW. (02) 9357 1744; fratelliparadiso.com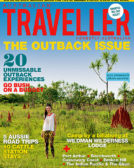 Enjoy this article?
You can find it in Issue 43 along with
loads of other great stories and tips.