Much-loved television presenter Shelley Craft travelled the globe for five years as a host on The Great Outdoors and is now an ambassador for online travel website TripADeal. Here she tells us about her favourite travel experiences.
1. As a child, our family holidays were always…
To the Sunshine Coast or the NSW ski fields. Our summer holiday to Noosa was a wonderful time filled with fishing, 'putting' on little boats on Noosa Sound and spending 20 hours a day at the beach.
Our ski holidays were all about the family road trip, stopping at every memorial, museum and significant landmark on the way.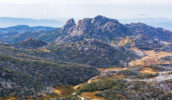 Once we arrived it was pure fun! When we were very little we stayed at a place called Sawpit Creek – a campground with cabins just near Smiggin Holes.
Kangaroos would literally knock on the cabin doors to be fed. They're wonderful memories.
2. Now we spend our family holidays at…
The Sunshine Coast or short city breaks with our daughters. We recently went to Brisbane for a weekend – having grown up there it still feels like home, but Brisbane sure has matured and is an incredible city. We had a ball.
3. The best thing about living in Byron Bay is…
Definitely the relaxed holiday feeling you have every day here. There is a strong community and everyone who lives here knows how good we've got it.
The weather is perfect and the food is amazing. The Farm is our latest go to for a family lunch.
4. My favourite place I visited while hosting The Great Outdoors was…
Impossible to choose! I loved Europe for the history, South America for the Culture, Africa for the heart, Canada for the scenery, Pacific islands for the people… is that cheating? I'm completely spoilt, I know!
5. I'm definitely a beach, bush and city person…
Variety is the key! To be honest, a beach holiday is easy to do with kids, so for the next few years our family holidays will be beach-bound.
But I love taking the girls to Melbourne with me for work – we catch trains and trams and visit museums and shop but I can only cope for a couple of days at a time.
I find nothing more peaceful than a mountain vista for relaxation, so again, Byron has it all.
6. The one thing I always pack is…
A camera. Take only photos, leave only footprints.
7. My last holiday read was…
Too long ago to remember! But 1421: The Year China Discovered The World by Gavin Menzies is amazing! This book questions our entire history of discovery.
8. My tips for travelling with children…
Be honest about what you want from a holiday for both you and the kids.
Keep it simple if you are after some serious R&R. Don't plan too much as travel can be really exhausting for little ones.
Kids' clubs are terrific, but I also love to enjoy time with my children as a family. Cruises can be a very easy way to holiday with kids.
9. I'm desperate to get to…
Uluru. My mother recently spent two months camping from Brisbane through the Simpson Desert and all through the Northern Territory.
It's one place I haven't been to yet and feel I can't call myself a true Aussie until I've done it!
MORE WALKABOUTS WITH  Erik Thompson | Sally Fitzgibbons | Johanna Griggs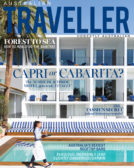 Enjoy this article?
You can find it in Issue 65 along with
loads of other great stories and tips.