What you need to know about buying a hand held GPS unit
Everytihng you need to know about…
The Global Positioning System
Where am I? Whether on foot or in a car you'll find the answer with a GPS unit.
The GPS is a network of navigational satellites that can be accessed with a small receiver unit, which will give you an indication of your position on a map to an accuracy of about five metres. You can also use the GPS to record a "waypoint" location such as a camp or car park, or you can enter the coordinates for other locations and ask the GPS to direct you to that point.
Two main categories of travellers benefit from GPS: those who venture into remote areas during their travels (think bushwalking or driving in the outback); and anyone who wants to simplify driving in a new city or town.
HAND-HELD GPS UNITS
It's relatively easy to find yourself a bit bushed in the Australian scrub. A hand-held GPS can help in very simple and useful ways, such as entering the location of your car before you go bush so you can find your way back. And it can help in more sophisticated ways if you know how to use a topographical map. A GPS unit can make navigating along a challenging route a breeze in fog or at night, and for those familiar with rogaining it can speed up navigating decisions to get you and your friends safely to camp with a minimum of fuss and wasted time. Hand-held units start at about $250.
While GPS is an excellent navigating tool for walkers, it's no substitute for learning map and compass skills. Without these basics a GPS could quickly get you way outside your comfort zone without realising it – and that's usually around the time the batteries decide to die.
IN-CAR SATNAV SYSTEMS
Satnav devices use the GPS satellites and have an auto-routing feature that gives voice prompts to guide your way. They'll even revise the route if you take a wrong turn or a detour while driving. In-car satnav systems start from about $1000 and come as an optional extra in some hire cars. Currently, after-market installed units such as Garmin or Navman tend to be better value than car manufacturer-optioned units.
Multi tasking
— The tiny Garmin Etrex has a user-friendly interface, excellent satellite acquisition (it's one of the best for working under tree cover) and can store 500 waypoints. At just $257 it's AT's best-ever value-for-money purchase.
— James Bond will definitely be buying a Suunto X9i. This hi-tech wristwatch-style GPS unit also has an altimeter, barometer, compass . . . and it even tells the time!
— The Navman iCN 320 is an in-car satnav unit with auto-routing, voice
prompts, colour screen and 3D maps. The unit can be transferred between cars.For more information check out the book GPS Navigation in Australia by Robert Pepper available from www.gpsvehiclenavigation.com
*Lucas Trihey publishes the Adventure Gear Guide 2006, the ultimate resource for adventure gear with great advice and more than 540 products. On sale now from outdoor stores, or from www.adventurepublishing.com.au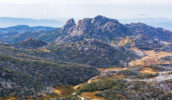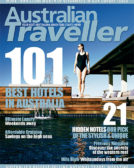 Enjoy this article?
You can find it in Issue 9 along with
loads of other great stories and tips.