21 Hidden Gem Hotels from around Australia
21 Hidden Gems
[resort] 1. The Byron at Byron
where: Byron Bay, NSW star rating: Unrated
phone: 1300 554 362 website: www.thebyronatbyron.com.au
best for: Rainforest experience with all the creature comforts.
A relative newcomer on the Australian resort scene, The Byron at Byron debuted in December 2004 as an instant success. Constructed within an immaculate 45-acre rainforest, the property encompasses all you could possibly want from a relaxing holiday with top-class accoutrements.
The lodgings at The Byron at Byron consist entirely of modern one-bedroom suites fitted with luxurious extras, such as a fully equipped galley kitchen with all the trimmings, including a washer and dryer, and the decidedly decadent freestanding bathtubs fit for two.
A mere ten-minute amble through the rainforest brings you to Tallow Beach, a massive stretch of sand popular with surfers and locals, which ends at the Cape Byron lighthouse. Sunrise over Cape Byron is a must see.
[boutique] 2. Empire Retreat
where: Yallingup, WA star rating: Unrated
phone: (08) 9755 2065 website: www.empireretreat.com
best for: A perfect jumping-off point for the winery tour of a lifetime.
Hidden on 256 acres of the Empire Estate vineyard in WA's famous Margaret River wine region, sandwiched about halfway between Dunsborough and Yallingup, the Empire Retreat has just ten suites, all of which are luxurious – a true, decadent, secluded, boutique experience. With private decking, outdoor showers concealed within native brush, access to spa, sauna, billiard room – and with each suite inclusive of breakfast and fluffy bathrobes (the two must-haves for any retreat) – Empire is complete escape only three hours south of Perth.
[guesthouse] 3. O'Reilly's Rainforest Retreat
where: Gold Coast, QLD star rating: 4.5
phone: (07) 5544 0644 website: www.oreillys.com.au
best for: Brilliant rainforest forays and stunning wildlife interaction.
For three generations the O'Reilly family has been introducing guests to the wonders of the Lamington National Park, one of the great wilderness areas of Australia. The natural wonder of the region is mind-boggling, from the spectacular bird life, waterfalls and views of the rugged escarpment to the glowworm grottos and endless walks that wind their way through untouched rainforest.
The guesthouse retreat provides a range of lodgings to suit a variety of tastes but all have one common component – magnificent mountain panoramas. And O'Reilly's has plunged headlong into the 21st Century, offering spa facilities and a tantalising list of activities to engage the whole family.
[boutique] 4. Hotel Richmond
where: Adelaide, SA star rating: 4.5
phone: (08) 8223 4044 website: www.hotelrichmond.com.au
best for: Old-world ambience combined with hip modern facilities.
The newly renovated Hotel Richmond, located right in the middle of Adelaide's prime shopping district on Rundle Mall, has been transformed into a chic, stylish establishment. A grand 1920s exterior reveals a surprisingly modern space within which you can relax in comfort and style.
The hotel's 31 rooms are all beautifully decorated with modern, understated furnishings, all feature king-size beds, and several have their own private courtyard. Aveda products in the lavish, Italian-marble bathrooms add that something extra. This hotel is just a short stroll from the restaurants of the East End and the cultural attractions on North Terrace, including the Festival Theatre and Art gallery. A perfect place for meeting friends is the hotel's bar/restaurant, First, which offers northern Italian cuisine while seated under chandeliers, six-metre-high ceilings and surrounded by gorgeous décor.
[boutique] 5. Hatherley House Hotel
where: Launceston, Tas star rating: 5
phone: (03) 6334 7727 website: www.hatherleyhouse.com.au
best for: A truly amazing, grand-hotel experience.
Hatherley House represents a unique, highly individual and stylish accommodation experience. Listed on the national register, it's a grand old 1830s home that has been re-crafted to retain all of its original magnificence and style, while at the same time being transformed into a lavish and intimate hotel. With soaring ceilings, elaborately carved fireplaces and rooms abounding with natural light, Hatherley's interior reflects an unusual combination of antiques and the ultra-modern – gilded paintings, Eastern tapestries, Indian carvings, African sculptures, rare books, winding staircases, a colonnaded entry, a magnificent vestibule, secretive niches, hidden passages and surprising balconies and archways.
Hatherley Salon is a great place to enjoy a leisurely breakfast and fully appreciate the stunning view of the gardens and distant snow-capped peaks of Ben Lomond. Unforgettable.
[boutique] 6. Lizard Island Resort
where: Great Barrier Reef, QLD star rating: 5
phone: 1300 134 044 website: www.lizardisland.com.au
best for: No mobile phones and every desire accommodated.
Located smack in the middle of Great Barrier Reef, Lizard Island Resort is a stepping-stone to an extraordinary marine adventure. This island is home to the world-famous Cod Hole where uninhibited Potato Cods cruise effortlessly among Homo sapiens visitors. But divers and snorkellers don't have to venture too far to experience stunning natural beauty – just step off one of the 24 private, pristine white sand beaches and be rewarded with amazing coral groves and gardens of giant clams.
Exclusivity is the catchphrase for this most northerly of the Reef's resort islands, where gourmands can revel in superb dining and staff are attentive to every guest's desire to ensure a memorable vacation.
[less than $150] 7. Lakes Resort Hotel
where: Adelaide, SA star rating: 4.5
phone: (08) 8356 4444 website: www.lakesresorthotel.com.au
best for: Stunning West Lakes views in a peaceful environment.
Situated beside the tranquil water of West Lakes, all suites at the Lakes Resort have breathtaking balcony views of the lake. Rooms are designed in a contemporary and luxurious style, with all modern facilities available.
Take your pick from two spectacular restaurants, Crusoe's fine dining and Lake Front Bistro, or simply relax in one of the bars, each with their own unique feel. Floor-to-ceiling glass windows in the Reflections cocktail lounge allow you to take in the picturesque view while enjoying a cocktail or two. The sports enthusiast will appreciate the 5Qtr bar showcasing an impressive display of sports memorabilia and featuring continual live sports coverage. If you're in the mood to be active, though, there's always the hotel's gym and pool to visit.
[boutique] 8. Longitude 131
where: Uluru-Kata Tjuta, NT star rating: Unrated
phone: 1300 134 044 website: www.longitude131.com.au
best for: Luxury isolation with round-the-clock views of Australia's greatest tourist icon.
Absolutely nothing compares to waking to the smells and sounds of the bush, raising your head and immediately gazing upon sunrise over Uluru, all the while reposing in lavish comfort. This is the daily experience at Longitude 131, a 15-room safari-style resort nestled among the red sand dunes of the Central Australian desert. Themed for pioneers of the Red Centre, all amenities are inclusive of the tariff – a nice change not to be reaching for the wallet the whole time.
An exceptional concept in the Australian travel scene, Longitude 131 is indulgence after indulgence from the moment you arrive. From the individual touring options to five-star dining under the stars at Table 131, this resort is a one-of-a-kind and not to be missed.
[resort] 9. Lake House
where: Daylesford, Vic star rating: 4.5
phone: (03) 5348 3329 website: www.lakehouse.com.au
best for: Day spa extravagance and utter, utter, utter gourmet indulgence.
A visit to Victoria's Lake House in Spa Country is a special occasion you save up long and hard for – but it's worth every cent. Walks along the lake, a wide range of beauty treatments from the brilliant Salus Spa, elegant lodgings and dining at its finest . . . for a fuller description of the luxury potential of this establishment, see Peter Robinson's excellent review in the 5 Luxury Holidays piece. But in the meantime, grab a coin jar, label it "Lake House Suite" and start planning for your next special occasion.
[resort] 10. Lemonthyme Lodge
where: Cradle Mountain, Tas star rating: 4
phone: (03) 6492 1112 website: www.lemonthyme.com.au
best for: Getting back to nature.
The delightful Lemonthyme Lodge is tucked away in the middle of a temperate rainforest, verging on Tasmania's World Heritage-listed wilderness. The log cabins are nestled among ferns and situated just above Lake Cethana, close to Cradle Mountain. Recent additions to Lemonthyme are the luxury wilderness spa cabins, incorporating either Huon pine or black-heart sassafras furnishings. You can even experience the scenic wilderness while sipping champagne in the spa opening right on to the balcony. Stay in the treetop cabins, built on large tree poles to elevate the rooms and take advantage of the wonderful views.
Several walking trails have their starting points at the lodge, giving you the perfect chance to walk under the rainforest canopy, marvel at the untouched land and feel the mist from the nearby waterfalls. Taste the local specialities at the lodge restaurant before enjoying a cosy evening in front of an open log fire.
[city] 11. Henry Jones Art Hotel
where: Hobart, Tas star rating: Unrated
phone: (03) 6210 7700 website: www.thehenryjones.com
best for: Surrounding yourself in wonderful, fascinating Australian art.
The Henry Jones may soon need to build a separate lobby to house the numerous hospitality, architectural, tourism, restaurant and design awards its been garnering since opening its doors in 2004. The conversion from an old wharf warehouse into arguably Hobart's finest lodgings, with more than 250 original art pieces scattered throughout, has been impressive to say the least.
The themed suites (Peking, Calcutta, Oriental, Art Installation and Deluxe Spa) are as unique as they are wonderful, and are amply accompanied by Superior and Standard rooms that are both stylish and elegant.
[resort] 12. Peppers Salt Resort & Spa
where: Kingscliff, NSW star rating: 4.5
phone: (02) 6674 7777 website: www.peppers.com.au
best for: The ultimate beach holiday accommodation.
The recently opened Peppers Salt Resort & Spa combines the seaside-village charm of Northern NSW with all the luxuries you'd expect from one of Australia's leading resorts. Beautifully presented rooms and self-contained suites (from one- to three-bedroom) are located just moments from South Kingscliff Ocean beach – a full kilometre of stunning ocean frontage.
A Golden Door health spa offers massage and beauty treatments, while the fully equipped health club and gymnasium provide a personal trainer, nutritional consulting and physiotherapy. There's a huge range of dining outlets at which to enjoy an evening meal or quick bite to eat. One of the highlights is Roughie's Restaurant & Bar: fine dining, a gourmet menu and elegantly styled décor ensures an enjoyable, relaxed experience. The elevated deck of the Salt Beachbar and Bistro overlooking the beach is also perfect for dining out – or for a cooling beverage at any time of the day.
[less than $250] 13. Medina Grand Adelaide Treasury
where: Adelaide, SA star rating: 4.5
phone: (08) 8112 0000 website: www.medinaapartments.com.au
best for: Home away from home at reasonable rates.
Ensconced in the heritage-listed historic former treasury building and tastefully converted into a range of one- and two-bed serviced apartments and studio rooms, offering a novel alternative to the traditional hotel stay. Everything you'd expect from the standard hotel fare is available – pool, gym, restaurant, bar, and, of course, room service – but there's also a fully equipped kitchen and laundry facilities. Sometimes making your own cup of char and nibbling on a bowl of cereal in your own space is mandatory – not to mention washing your own unmentionables. The Medina provides an accommodation option that is both economical and comfortable, in absorbing surroundings.
[boutique] 14. Lyall Hotel
where: Melbourne, Vic star rating: 5
phone: (03) 9868 8222 website: www.thelyall.com
best for: Exclusive city hotel with resort lifestyle features.
The Lyall offers spacious suite accommodation at an elegant residential address in South Yarra, a fashionable and cosmopolitan destination at any time of the year. Exclusive custom-made furniture, beautifully textured finishes, and quality "Warwick" fabrics create a mood that's contemporary Oriental. A mini art gallery on each floor features the original art of local French artist Thierry B, and the lounge with open fireplace is the perfect place to unwind.
Enjoy a relaxing breakfast, lunch or dinner inside or on the terrace at the Bistro Lyall, where the menu offers tantalising seasonal cuisine that captures the essence of Melbourne's multicultural influences. Lyall Champagne Bar is ideal for sampling one of the many French bubblies on offer. Leisure facilities available include the Lyall Spa, state-of-the-art gym, a CD/DVD/book library and – for those inclined – bikes with which to explore the local area.
[boutique] 15. Seven Spirit Bay Wilderness Lodge
where: Arnhem Land, NT star rating: 3
phone: (08) 8979 0281 website: www.sevenspiritbay.com
best for: An extraordinary experience – and a living lesson in sustainable eco-tourism – that will satisfy your sense of adventure.
At the Seven Spirit Bay Wilderness Lodge you'll be inspired by the land, just as tribal ancestors were so many thousands of years ago. Superbly sited in the tropical forest of Arnhem Land, just a few metres from the sea, Seven Spirit Bay nestles among the trees in virtually untouched forest, designed to be in complete harmony with the environment. Its remote and secluded location allows guests to experience the true wilderness of the region.
Strike out into the great diversity of the landscape and learn about the fascinating environments from the lodge's experienced guides. At the end of the day, relax in your own freestanding, private, hexagonal habitat. Indulge yourself with a favourite drink while you witness a magnificent Top End sunset before heading to the restaurant for a true Arnhem Land dinner, prepared with a selection of fresh produce – with an emphasis on fresh seafood. This place is out there.
[city] 16. Hotel Lindrum
where: Melbourne, Vic star rating: 4.5
phone: (03) 9668 1111 website: www.hotellindrum.com.au
best for: A sophisticated business traveller's haven.
Located right in the heart of cultural Melbourne, this unique boutique hotel combines a classic and timeless building with modern and comfortable designs. The chic interior blends wood grain furnishings with a natural colour scheme of muted browns and creams, creating an atmosphere of warmth and luxury throughout. At the hotel there's an emphasis on privacy, charm and attention to detail. Rooms are spacious with a strong sense of mood and intimacy – an ambience enhanced by the classic rich interior and discreet lighting.
Incorporating all aspects of its heritage, Hotel Lindrum features an original billiard table and memorabilia of Walter Lindrum during his championship era. Felt restaurant offers a truly magnificent dining experience of contemporary cuisine, complimented by an impressive local and international wine selection. After enjoying an exquisite meal, make yourself at home by the open fireplace in the bar – you're not going anywhere.
[family] 17. Geographe Bayview Resort
where: Busselton, WA star rating: Unrated
phone: (08) 9755 4166 website: www.geographebayview.com.au
best for: Summertime visits with the kids in tow.
Smack bang in the middle of Geographe Bay in southwest WA, this is pure value for your next family getaway. Large, spacious villas sleep three to six a stone's throw from the beach, and with cocktail bar and licensed restaurant for mum and dad, outdoor and indoor heated pool and spa, kids' playground (with babysitting), bouncy castle, volleyball and tennis courts and a kids' club during school hols, there's lots to do. And that's before you start exploring the beautiful surrounds of Busselton, nearby Eagle Bay and the rest of this stunning region. Super-friendly and helpful staff make this a holiday spot that will exceed your expectations.
[boutique] 18. Establishment Hotel
where: Sydney CBD, NSW star rating: Unrated
phone: (02) 9240 3100 website: www.merivale.com
best for: Hiding from the travails of city life in style. Oh, and the exquisite bathtubs.
Escape into the centre of Sydney at the highly eclectic Establishment Hotel. This may sound like an anomaly, but closeted in this Circa 1897, classy, modern, boutique "establishment" you may decide not to venture outside the building at all.
Wile away the evening in Hemmesphere, a divine lounge bar that parallels the best nightspots of New York or London. Repose on North African inspired ottomans languidly sipping on a cocktail or drift out to the candlelit terrace to partake of a Cuban cigar. Afterwards enjoy an intimate diner in Est., famed for its original Australian cuisine.
With only 33 rooms and two penthouses, each guest is treated to world-class service, and the private gymnasium goes a long way towards soothing the excesses of this escape.
[boutique] 19. The Prince
where: St Kilda, Vic star rating: Not listed with AAA
phone: (03) 9536 1111 website: www.theprince.com.au
best for: Hip and interesting digs in one of the hippest and most interesting
parts of the country.
A 40-room surprise tucked into the Prince of Wales complex on café-, bar- and restaurant-rich Acland St. Between the minimalist room decor, the baked delights from Il Fornaio, the beauty treatments at Aurora Spa Retreat, the 24hr room service from the funky Circa restaurant below, the loud and live entertainment in the Band Room, the quirky basement nightlife at Mink bar and, of course, the inimitable Prince of Wales itself, staying at the Prince is like being granted instant access to the Creditcard of Cool – with no limit and the safety removed.
[boutique] 20. Kims Beach Hideaway
where: Toowoon Bay, NSW star rating: Unrated
phone: (02) 4332 1566 website: www.kims.com.au
best for: A tranquil respite only an hour north of Sydney.
An hour north of Sydney and a million miles from anywhere, Kims Beach Hideaway has been evolving since first throwing open its doors as a humble beach camp. Long gone are the tents and rustic timber cabins, replaced instead by luxurious bungalows and villas equipped with spas, Jacuzzis, heated towel rails and private balconies overlooking peaceful and secluded Toowoon Bay.
Some lucky Sydneysiders have been pampered by Kims for decades, creeping out of town on a Friday afternoon and scampering up the Pacific Highway to arrive just in time for evening cocktails and a sumptuous meal highlighted by homemade delicacies. The secret is out, though, and a sojourn at Kims remains a tonic of rest and relaxation.
[boutique] 21. Freycinet Lodge
where: Coles Bay, Tas star rating: 4
phone: 1800 420 155 website: www.freycinetlodge.com.au
best for: Exploring the incredible Freycinet peninsula.
Situated on Tasmania's east coast, Freycinet Lodge provides luxury lodgings right inside the national park, giving you ample opportunity to appreciate the abundant wildlife, rich colonial history and pristine white beaches of Freycinet. The lodge is positioned right on the waterfront and was designed to integrate superb facilities with the natural environment. It provides an excellent base for exploring the peninsula by day, becoming your ultimate comfortable haven at night.
Stylish yet simple, the lodge cabins are designed to impart welcoming familiarity and warmth. After trekking to the Wineglass Bay lookout and taking in the spectacular views of this famous remote beach, you'll feel as though you've truly earned the fine local food and cool-climate wines. Local chefs source regional produce, including fresh crayfish, scallops and salt-sweet oysters, to craft cuisine that highlights the best of the area.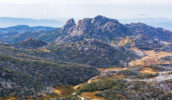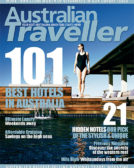 Enjoy this article?
You can find it in Issue 9 along with
loads of other great stories and tips.