Brit Charli Moore was wondering how she could fund a serious travel addiction after she and her partner, Ben, left the corporate world behind in the UK. She stumbled upon the magic formula, house sitting, and has been on the road ever since. 
Sat at my laptop, typing keywords into the search engine, I felt deflated.
My other half and I were due to leave on a 12-month round-the-world trip in just a few weeks and the thought of financing such a long stretch of accommodation was looming over us like a dark cloud.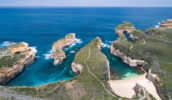 Skip forward a little over two years and here we are, still exploring the open road. Having spent proportionately less of what we had initially budgeted, we have funds in our back pocket to sustain our nomadic existence for a few more years to come.
Like almost all travellers we consider each purchase carefully and keep to a daily budget. However, we have also utilised a travel hack which has allowed us to live rent free in six different countries, saving us the cost of more than 18 months' accommodation.
We are house sitters and to date we've cared for 14 spectacular properties.
Our first assignment took us to a town in the northern province of Guanacaste in Costa Rica, surrounded by lush tropical rainforest and a visual feast of flora and fauna.
This opportunity introduced us to the many benefits of living like a local and immersing ourselves in new environments.
Since then we have spent time, and much less of our budget, living in the USA, Canada, the UK, New Zealand and here in Australia. Each assignment unique and each offering a new insight into the country.
Just under a year into our travels we secured an assignment in Australia, a destination we had both been dreaming of for years.
We decided that before the 'sit' we would explore parts of the diverse landscapes which make up this spectacular country.
Buying a vintage motorhome in Sydney we set off in search of adventure and after a mesmerising journey through parts of Western Australia, South Australia and Queensland, set up camp for the final time in the coastal village of Valla Beach, New South Wales.
The house-sit in Valla was unlike any of our previous assignments. Set back from the village, the property was surrounded by rows of macadamia trees, each one laden with a bounty soon to be harvested.
Our task was to care for the owners two dogs, a roly-poly, arm-chair-loving little beagle named Crumpet, and a super intelligent, tennis-ball mad Kelpie called Reggie.
Our days consisted of long walks and sessions of canine tennis on the beach, a little routine maintenance around the property and some household chores.
For the most part we were outside in the garden playing fetch with Reggie while attempting to rouse Crumpet from her comatose state on the arm chair.
When the sun came out, we sat out on the patio or worked on the garden. If the clouds came in, we retreated inside to forge ahead with our own freelance projects. All the while our furry house mates kept us entertained with their comical mannerisms and playful nature.
Through house sitting we have made connections with people living all over the world. From these connections have come more opportunities, not just further house-sitting assignments but employment possibilities and collaborative projects.
Our set of life skills has also increased dramatically and while we may refrain from listing some on our CV, each assignment has brought the chance to try our hand at something new.
For example, I can tell almost instantly if a macadamia nut, still encased in its husk, has gone bad.
I am also able to throw a Frisbee at precisely the correct height so that a two-year-old border collie, running at a speed of approximately 30 km/h, can leap, catch and land with it in his mouth.
My other half is aware of the correct technique for deterring an excitable golden retriever from chasing howler monkeys in the Costa Rican jungle and can herd a troop of 12 alpacas, while avoiding green globules of spit, with relative ease.
Our forthcoming assignments are set to enlighten us on the benefits of island living in the Caribbean and ease us into life in the fast lane in an apartment overlooking Central Park inNew York.
With no end in sight to our current nomadic existence, we are content to continue walking a mile in the shoes of people living across the globe.
If the concept of house sitting appeals to you I implore you to leave the often stale and impersonal experience of all-inclusive resorts and corporate hotels and sample local life.
House sitting is suitable for all; young, old, singles, couples or families. There are assignments that will suit your style.
So how do you go about securing your own opportunities? Take a look at our top tips.
Select a Service
There are a number of services online so do a little research and select one that offers assignments in the locations you desire to visit.
We initially registered with four services but have only renewed our subscription with Trustedhousesitters.com as we have had the most success with our applications and found it offers the most comprehensive portfolio of opportunities worldwide.
Create a Profile
Take the time to craft a comprehensive profile. Be descriptive about your hobbies and interests. Detail why you are keen to house sit and why you believe you can fulfill the needs of a home or pet owner.
Upload recent photographs of yourself engaging in your favourite hobbies or interacting with animals. Home owners will better identify with applicants who illustrate their profiles.
Select and apply for assignments
Remember to consider the logistics associated with foreign assignments; visas, flights, cost of living, language barriers etc.
Do not be lured into applying for a remote Fijian sit if you've not researched exactly what the experience will entail.
Create a basic application template, sign up for daily email alerts and know exactly what dates and locations you will consider. Read each advert thoroughly and understand any requirements listed.
Tailor your application template to include references to the advert.
Apply as soon as you see the listing as popular assignments will receive a flood of applications.
Finally…
Once you've applied, the waiting game begins. Brew yourself a cup of chai and keep all available limbs crossed.
We are so grateful to the international house sitting community for offering us such a great insight into local culture across the globe, and for teaching us how to maximise our daily travel budget.
We are keeping our fingers crossed for more life lessons and exciting assignments, so why not join us and take a class in local living yourself?
You can follow Charli Moore and her other half Ben (writer/photographer) team over at Wanderlusters.