How are you spending the coming New Year's Eve – alone on a mountain? Or in the thick of a crowd? If you can't decide, these could be just the ticket. By Greg Barton 
All About Eve



There are as many ways to celebrate the ushering in of a new year as there are champagne corks tracing arcs through the air at two minutes to midnight. Millions flock to designated firework zones. Others flee the cities, hoping for nothing more than a conversation with a spotted quoll as they calculate by the stars precisely when midnight has passed, give or take. Whatever your preference, Australian Traveller wishes you a happy one, and offers
the following suggestions for ringing in 2006 in style . . .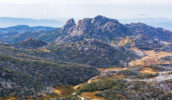 Rotto, with a Perth Cup chaser
This combo is a WA institution. Just 30 kms off the coast of Perth sits tiny Rottnest Island. On ferry approach to the year-round holiday destination, one of the first things to hove into view is the Quokka Arms, a pub that's about nine-tenths beer garden with a standard capacity of 3800. On New Year's Eve that number swells to a lot more than that. And, since the pub is right on the beach, it's possible, without noticing, to find yourself sipping drinks waist deep in the ocean amid a flotilla of small boats lashed together to increase the party atmosphere.
Rotto is so phenomenally popular during summer holidays that the Island Authority employs a complex ballot system for accommodation – but that's cool, since you're not hanging around: you've got a horse race to get to. Once midnight strikes and you're through kissing everyone, catch the first ferry off the island (usually around 2am, then 4am) and get ready to head just ten minutes northwest of the CBD to Royal Ascot Raceway for the $350,000 Group Two Perth Cup. Not that you'll notice the actual horses, because you've bought a ticket to one of the 100 tents in TentLand, where 8000 cocktail dresses await the chance to flirt with 8000 single-breasted suits in a champagne-fuelled celebration of such flamboyance you'll forget that only hours earlier you were kneeling in the surf outside the Quokka Arms looking for your thongs. More info at www.rottnestisland.com.
Bridge with a bang
Hailed as the biggie on the Australian pyrotechnic stage, each year a defence budget's worth of lasers and crackers are thrust into the Sydney skyline for the edification of more than a million people lining the Harbour. That's like the entire population of Perth huddling inside an area only a few kilometres long with their heads pointed skyward. The whole thing is free, so camping out for top spots starts early (for the super-keen, even a day in advance), with prized city-side positions including Circular Quay, the Opera House steps and The Rocks, and hot North Shore spots including the Kirribilli and Milsons Point foreshores. Spirits are high, aggro is virtually non-existent and more than a quarter of a million overseas visitors drop in. So if you actually live in this country and haven't yet stood on the banks of the Harbour while her iconic Bridge whistles and catches fire, you're probably long overdue for the experience. More info at www.cityofsydney.nsw.gov.au/nye.
Here comes the sun
If you're going to see one spectacular sunrise in your life, it might as well be on New Year's morning, and you might as well be the first in Australia to do so.
Mount Warning, the 1157m-high hill around two hours' drive northwest of Byron Bay, has the singular honour of being the first spot in Australia to be kissed by the sun's rays each morning. And it's a popular vantage point: in 2000, the NSW National Parks and Wildlife Service allowed only 60 ballot winners to scale the minor peak and settle onto its viewing platform for the big moment. From floor to summit and back the entire 8.8km, four-to-five-hour round trip ranges from a relaxed walk to a fairly steep chain-assisted clamber (for the last 100 metres), so it's not challenging for the reasonably fit.
Alongside the neat pathway you'll meet bush turkeys and sleepy snakes minding their own business amid the lush, tropical growth typical of the area. The summit, once attained, is peaceful, and on a good day offers stunning 360-degree views, including Queensland's Glass House Mountains to the north and the glittering Pacific Ocean to the east. If flares or fireworks are your game, though, please give Mount Warning a wide berth: not only are you in national parkland for miles in every direction, it'll also be the middle of summer. More info at www.nationalparks.nsw.gov.au.
Ring it in thrice
For those looking to dodge the hustle and bustle, there are a handful of spots in this wide, brown, fascinating land of ours where it's possible to be miles from anywhere and in three states at once. One such place is Cameron Corner, where, on New Year's Eve, it's possible to be in four states at once: Queensland, NSW, South Australia, and drunk.
The tiny town at the centre of such a zany and confusing collision of time zones has a population that normally hovers at around . . . one. His name is Bill Mitchell, and he runs The Corner Store. "But I'm looking to double that number if you know anyone," he says when AT calls him. Bill reports there were "300 odd" for the Millennium New Year, although this year it'll be more like 70. "It's all kept very, very informal. Bit of a build-up during the day, people come and camp, then we have a light BBQ tea, then I shut the shop and we do NSW first."
NSW is "done first" because, when midnight hits, it's still only 11:30pm in SA and 11pm in Queensland. "I designate a timekeeper," says Bill. "To keep track of everything and yell down from five minutes, four minutes, ten seconds – all that. Then we party in NSW for ten or 15 minutes, then we all move to SA, which is about 15 feet away, and do it all over again. Then we move to Queensland. It's bloody great fun."
430 kms north of Broken Hill seems a long way to go for a temporal oddity, but the celebratory implications are staggering: three times the singing, kissing and fireworks with only a fraction of the crowds. If you're interested, give Bill a shout on (08) 8091 3872 or check out www.cornercountryadventure.com.au/.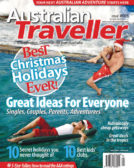 Enjoy this article?
You can find it in Issue 5 along with
loads of other great stories and tips.