Stinky Bill – GUNNEDAH, NSW

As the self-proclaimed Koala Capital of the World, Gunnedah knows how to market its warm and fuzzy advantage. Ramble the Waterways Wildlife Park on Mullaley Road, or even Anzac Park beside the Visitors' Centre, and you'll get a sore neck from tallying the bears on high. Yet to create a trust fund for Blinky Bill and his umpteen buddies, the town has resorted to selling a product known as Koala Kitsch. For only a $1 a pop you can buy a tasteful sachet of koala pooh with a distinct eucalypt fragrance. Warning, reads the packet, contents not to be consumed. Strangely, this needs to be said, since koala dumps are the dead spit of liquorice bullets.

Slush Fun – GERALDTON, WA

Rain, hail or shine, roadworkers couldn't figure out why this one little patch of road was always boggy. Weirder still, the puddle would lapse into bubbling now and then. When geologists explained the erupting mud was due to groundwater being pressured through old volcanic ash, otherwise known as betonite clay, the road gang still couldn't warm to it. So the guys ensured the route sidestepped the enigmatic muck, now known as the sinkhole. We suggest you do the same thing, unless you want globs of sickly sludge on your size 11s. This stuff makes quicksand seem decidedly slow.
[North of Chapman Valley Winery along the Nanson-Howathara Road. The mud is signposted.]

Sty and Dry – COBDOGLA, SA

If you want to see the only working Humphrey Steam Pump in the world, head for Cobdogla, between Berri and Barmera on the Sturt Highway. But be careful when you visit. In the summer of 2002/3, the bone-dry swamp edging the town caused such an unholy reek that residents became prisoners in their own homes, their air-con systems recycling the captive air to a point of asphyxia. At this rate, if dry conditions prevail, you'll need an oxygen mask to get near the joint.

Poo Print – CANBERRA, ACT

At Pepe's Paperie you can buy something for that difficult someone who has everything. I'm only guessing that same person doesn't own their very own scroll of fine paper pulped from Sri Lankan elephants' poo. Or a writing pad sourced from crap graciously left in lumps by animals of the African jungle? Add Indonesian elephants to the paper chase and you wonder if you shouldn't so much put pen to paper as pen the paper maker. The best of it is a portion of the cost price is returned to assist welfare funds back in the country of origin.
[Shop 67, Woden Plaza, Phillip, ACT. Open daily. Phone 02-6282-0300. There are also now Pepe's paper stores in Melbourne and Sydney.]

Sock Shock – WYUNA, VIC

Pity a bloke like Murray Ross. The poor guy had the job of driving the local school bus, suffering the dubious odours (and intellects) of adolescents. Seriously, the odours were the worst of it, the teen feet in particular. Ross got so despairing with the arch-offenders he ordered the smelliest socks to be removed before term ended and ceremoniously stapled to a tree by McCoy's Bridge on the Goulburn River. Since then, the reeky ritual has perpetuated, with a whole generation of high-smelling Holeproofs dangling from the branches. No need to ask directions – just follow your nose.

Crunching the numbers, Victoria wins the Golden Urghh, but that's because I've chosen to ignore the Dunny Derby of Winton (Queensland), the night-soil exhibition of Coolgardie (WA), and the local sewage farm in Dorrigo (NSW). This last facility is charmingly known as Bleak's Turdle Farm, elegantly landmarked by its own ess-bend sculpture.

[David Astle is the author of CASSOWARY CROSSING – A Guide to Offbeat Australia, due out July 4 through Penguin Books. Urghh is one sick foretaste.]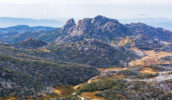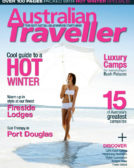 Enjoy this article?
You can find it in Issue 16 along with
loads of other great stories and tips.