Beach season is here! Stuff your bag with all this gear and get out amongst it…
01. SWIMMING COSTUME
Halter-neck onesies are flattering on women of all sizes – even gorgeous models (pictured)! The Page swimsuit by Panache lingerie, $109.95. biggirls.com.au
02. RADIO
We love the retro stylings of the Roberts digital radio, $247. bigw.com.au
03. SUNGLASSES
Footwear label Tod's is known for its preppy loafers. Now there's Tod's Eyewear, too, so you can look as good at the top as you do down below, $395. For stockists, call 1800 030 077.

04. SUN HAT
A Santa Fe sun hat will make you one shady lady, $79.95. suboo.com.au

05. EARPHONES
There's nothing worse than having your tunes fall out of your ears on your regular run. Jabra Sport wireless bluetooth stereo, $149.95. jabra.com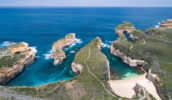 06. CAMERA
The Lumix DMC-FT3 is a sexy little number with a beautiful Leica lens, $549. panasonic.com.au
07. HAND WEIGHTS
Zumba Fitness toning sticks will help you get a Brazilian beach bod, $35. zumbashop.com.au
08. WATER BOTTLE
The 550ml filtered Waterbobble will let you drink water from public taps without any worry this summer, $14.95 for the bottle; $9.95 for refill filters. waterbobble.com.au
09. WATCH
Strap on a Classic Solid Blue Ice Watch for a nautical twist. It's water-resistant to five metres, so it won't die if you get pushed in the pool, $89. ice-watchstore.com.au
10. WRIST CUFF
Made from recycled telephone wire and handwoven in South Africa, this is sustainable jewellery at its brightest. It's waterproof, so you can wear it to the beach – but watch out for tan lines! $39. villacoco.com.au

11. SANDALS
There's nothing the least bit clumpy or equine about these jazzy jade sandals from The Horse. "Thelma" flats, $169.95. the horse.com.au
12. BEACH UMBRELLA
Colour-block the sun right out of the picture with this bright Le Pixel sunshade by Basil Bangs, $220. oneforyouoneforme.com.au
13. BEACH BLANKET
Designed by an Aussie beach babe for Aussie beach babes, this tropical, minty-hued Bellamee picnic blanket is easy to sling over a shoulder on your way out the door, $149. bellamee.com
14. SUNSCREEN
Classic Le Tan lotion comes in a classic, French-inspired bottle. Don't be silly, slather it on for a skin-safe summer, $9.99. For stockists, call 1300 650 981.
15. BEACH BAG
Wet & Wendy is a strange name for a fashion label, isn't it? Super-stylish threads, though. We love this slouchy, stripy, drawstring Strong Horizon Duffle Bag, $49.95. wetandwendy.com
16. PICNIC BASKET
SunnyLife's two-person picnic basket is perfect for the festival season. Imagine filling it with cheese and wine for the Moonlight Cinema, $99.95. sunnylife.com.au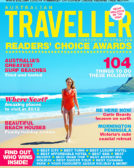 Enjoy this article?
You can find it in Issue 42 along with
loads of other great stories and tips.