These hotels take their artists-in-residence programmes to a whole new floor, including Instagram classes and cinematic residencies.
Instaglam: Emirates Wolgan Valley
Regular photography retreats are so passé: book into an Emirates Wolgan Valley Resort & Spa photography retreat and you'll receive instruction from Australia's only professional instagrammer, Lauren Bath. The hotel's recently announced photographer-in-residence (and sometime AT photographer) has over 300,000 followers on the social media platform. She sure can take a photo. From 13–15 June, $1250 per person, twin-share.
Suite inspiration: The Schaller Studio, Bendigo
Melbourne mega-brand the Art Series hasn't even opened its next venture, Bendigo's 'The Schaller Studio', but the hotel has already begun to make its presence known. Recently announced namesake Mark Schaller has unveiled a hand-painted, fully-functioning, vintage tram, which as it makes its colourful way through town invites guests to disembark for sketch stops. Art classes and artisan markets will be launched when the stay opens, while each of the 128 suites (or artists' 'workspaces' as they'll be known) will also feature an original Schaller artwork. Opens May, with a special from $125 per night for stays between 10 May and 31 August.
A shot at cinema: Sydney Sofitel Wentworth
The Sofitel brand has a long history of art and design. This year at Sydney Sofitel Wentworth you can wander into the bar during cinematic artist Daniel McKewen's residency and, while watching his video artistry, knock back thematically appropriate cocktails including The Absinthe Minded, which will probably leave you feeling just that – but the best ideas happen when we're relaxed, no? From 11 March until 31 May.
Artists' treats: Atlantic Byron Bay
Byron Bay itself has long been a respite for the artists of the globe, so it was only a matter of time before a sweet little local hotel like Atlantic Byron Bay began collaborating with local artists and global visitors. Come May this year, Atlantic (which refers to itself as 'a haven for creative souls') will unveil Splash, their first weekend of 'workshops and creative conversations' from 15–17 May, with presentations by bloggers, writers, graphic artists, life coaches, interior stylists and, because it's Byron Bay, a 'paper artist'. From $376 per person (two nights' accommodation only; workshops separate).
Master peace: Sails in the Desert hop
Sails in the Desert Hotel, part of the Yulara township on-site at Northern Territory's Uluru, doesn't have one artist in residence – they have one every month. Oh, and a 'craftsperson in residence', too. At any time of year you can wander through the hotel foyer and observe everything from glassware, pottery and textiles to metal, leather and paint work, including Central Desert dot paintings, before meeting the artists, watching them at work and, if you're feeling flush, purchasing a piece or two. Local's tip: Wander to the nearby town square and you can often find local painters creating artworks in the breeze.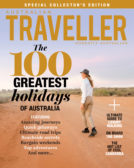 Enjoy this article?
You can find it in Issue 56 along with
loads of other great stories and tips.