Cocos (Keeling) Islands are a divers paradiese in Australia
Island style in the Indian Ocean
"Cocos Islands are the ultimate hotspot for an extra long weekend. Picture palm fringed beaches, fantastic diving, remoteness, warm conditions all year round – a real 'get away from it all' place and, so far, unknown by Australian standards. And wait till you arrive at the spectacular Direction Island nearby – it's out of this world." – AT reader Glen Murphy, Dunsborough WA

Images taken by Karen Willshaw
So you've sailed to the Caribbean and sipped mojitos in Cuba – but have you ever heard of the sandy Cocos (Keeling) Islands? The territory of the Cocos Islands is made up of 27 little coral isles forming a horseshoe-shaped atoll encircling a lagoon. The island cluster is an Australian territory, administered from Canberra although located northwest of Perth, hidden amid the vast Indian Ocean, where only a few lucky folk have spied on its untouched beauty.
The deserted Coco Palm-covered isles have a moderate climate, making the little landmasses attractive year round. Temperatures will rarely drop below 25 degrees and when rain sweeps over the atoll it's never invasive enough to ruin your long weekend break at the sandbar. Whether you're headed to the isolated islands to simply sunbake, play backgammon or read without interruption, you've chosen one of the world's best-kept secrets.
If island hopping, picnic spreads, reef walking and turtle spotting are your scene, then this little rapture is set to impress: Direction Island, just across the lagoon, is easily accessible via ferry. Its snorkelling rivals the Great Barrier Reef's, and glass-bottom boats help open up the underwater world. Spotting dolphins coasting along the Cocos is a recurring treat, so get ready to feverishly swim towards them; bathing with these beauties evokes the most surreal sense of calm. Now could be the time to use your newly purchased underwater camera.
Just imagine your own playground, with choppy seas for windsurfing and quite coves for trawling dogtooth tuna. Snag your own catch of the day, fire up the BBQ and invite islanders around for a beer – on arrival in the Cocos Islands, you're considered a local. The hospitality alone will make your long weekend.
Other things to do:


Find a hammock on a desolate sandy beach and fall asleep listening to the sound of lapping water.


Hire a bike and cycle through the tropical sanctuary of West Island – paths are lined with Coco Palms. Strip and sip a coconut if you come across one.


Home Island is a tranquil little place to spend an afternoon. Catch a ferry across the lagoon and try the exotic cooking of the local Cocos Malays, little cafes offering spicy Malay dishes.


Cocos Dive offers great scuba diving packages for keen underwater fanatics, (08) 9162 6515, www.cocosdive.com
Details: Cocos (Keeling) Islands
Where: 2750km from Perth. Fly with National Jet www.nationaljet.com.au – who fly from Perth on Fridays and leave Cocos on a Monday, an ideal long weekend from WA's capital.
Contact: Cocos (Keeling) Islands (08) 8 9162 6790, www.cocos-tourism.cc. Island Explorer Holidays arrange holiday packages, (08) 9322 9561
What to take: A soft cooler bag as there plenty of places for picnics.
Where to stay: Cocos Islands Village Bungalows, on West Island, www.cocosvillagebungalows.com
Did you know: Cocos (Keeling) Island is located on almost exactly the opposite side of the globe as another Cocos Island, in Costa Rica.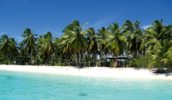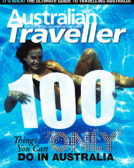 Enjoy this article?
You can find it in Issue 20 along with
loads of other great stories and tips.