the ultimate guide to those australian islands heating up this summer
Islands in the Sun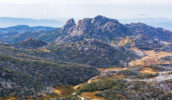 We live on the world's largest island – but does that stop us from constructing fantasy getaways to the smaller ones dotted all along our coastline? Accept that there's a touch of the Gilligan in all of us, and consider these temperate isles for your summer holidays.
By Suzi Petkovski
Since the tropical north of Australia is sticky with humidity in the upcoming months, we're setting sail for cooler climes. Summertime is when these destinations really come into their own – and nothing says "Christmas getaway" like an island. Blue horizons and island time and tides create slower life rhythms, and workaday worries and urgencies melt away. No desperate shopping list of things to see, so you can just be. Still, the range is huge: from the sand-in-your-cossie experience of Rottnest to the drenched wilderness of Tasmania's southwest.
Rottnest Island, WA
Can't afford Crete? Rotto's spectacular swimming spots give you an Aegean-Down Under experience (www.rottnestisland.com). Rocky coves, turquoise shallows and crescents of white sand stretch along the mostly treeless coastline. The choice spot for a dip is the Basin, at the northeast tip of the island. You can reach it on the Bayseeker Bus, which does a hop-on, hop-off circuit of the beaches.
A two-hour coach tour is a good way to familiarise yourself with the island, while a courtesy bus shuttles between the main accommodation centres. No private vehicles are allowed on Rottnest, which adds to the holiday vibe. The main form of transport is bike (BYO or hire), and a circuit of the island is an easily negotiated 24 kms. Walking-tour trails range from quokkas (the small wallabies that give the island its name, being mistaken for rats by Dutch explorer Willem de Vlamingh in 1696) to maritime, military and Aboriginal history (Rottnest was an Aboriginal prison from 1838 to 1931).
Although Rotto is a nature and marine reserve, fishing is allowed – with some restrictions. Snorkelling and scuba diving are popular, and the Underwater Explorer semi-sub gives you a look at the reef and wrecks without getting wet. Accommodation is mostly unpretentious and laidback: camping, dormitories (former barracks), and modest seaside cabins and bungalows. But as it's Perth's No.1 summer playground, locals and visitors alike descend on Rottnest like seagulls swooping on chips. A public ballot allocates accommodation for peak times – summer, school holidays and Easter – so you may have to content yourself with a day trip or two.
Rottnest is closest to Fremantle (18 kms, 30 minutes by ferry), and the entry fee ($11.50 adult) is usually included in the ferry ticket. Crosswinds can make the trip a little on the rough side. Pack those ginger tablets.
Kangaroo Island, SA
This emerging destination offers soaring coastal cliffs, pristine waters, surfing, fishing, scuba diving the coral reefs and shipwrecks, a budding gourmet produce scene and abundant wildlife (www.tourkangarooisland.com.au). Seal Bay in the south is a David Attenborough fantasy, crowded with sea lions and fur seals. National and conservation parks cover one-third of the island, and as dingoes never set foot here, and foxes and rabbits were never introduced, KI is a haven for many unique species (like, yep, the Kangaroo Island Kangaroo and other native critters that are rare-to-extinct on the mainland.
Stiff sea breezes keep KI cooler than the rest of SA in summer – the average January temperature is a perfect 23.5°C. It's often cooler along the exposed southern coast; don't miss enticing Vivonne Bay, the Kelly Hill Caves Conservation Park and the white sand dunes of Little Sahara. Car ferries chug between Glenelg and Kingscote (the oldest official European settlement in SA and the proposed state capital) and between Cape Jarvis on the mainland and Penneshaw. Or you can hire a vehicle on the island. There's no public transport on KI.
A note to drivers: as KI is Australia's third-largest island (after Tasmania and Melville Island), visitors tend to underestimate distances, and most roads are unsealed and treacherous due to loose gravel. Allow plenty of time between locations and be a scenery – not a speed – freak.
Phillip Island, Vic
Lazing in Westernport Bay only 90 minutes from Melbourne, Phillip Island's many attractions need little spruiking: the Penguin Parade is Victoria's No.1 tourist magnet. Indeed, with around 3.5 million visitors per year, the island is touted as Australia's most popular tourist destination (www.visitphillipisland.com or www.phillipisland.net.au).
Summer is the best time for wildlife watching, as it's breeding season for the penguins (smallest in the world) and fur seals (biggest in the world) at the western end of the island. Penguins waddle out of the sea and up the beach nightly, and a colony of more than 10,000 seals takes over The Nobbies and Seal Rocks. Mutton birds (also breeding in summer) and pelicans hold sway in the east, while koalas rule in between.
Rugged Cape Woolamai, facing Bass Strait, offers pounding surf and long coastal walks, while the protected north coast, facing Westernport Bay, has the picturesque family beach at Cowes. The cafe set has well and truly arrived at Cowes, the main town – there are eateries and sea-view apartments aplenty. Charter boats offer fishing trips, marine-life cruises and visits to undeveloped French Island, twice the size of Phillip Island and with Australia's largest koala population.
Off Newhaven, in the swampy northeast of the island, lies historic Churchill Island, site of the first European settlement in Victoria, and overlooking Bass Strait on Back Beach Road is the prettiest race track you've ever seen, home of the first Australian Grand Prix. Who needs Portsea?
Abrolhos Islands, WA
An Antipodean version of the Maldives, the Abrolhos are a chain of more than 120 islands and coral reefs stretching north to south in the Indian Ocean, about 60 kms out of Geraldton (www.westernaustralia.com).
There's no overnight accommodation, so you can't actually stay on the islands. Scenic flights out of Geraldton give a sense of how visually spectacular the Abrolhos are. Even better, take a fishing, diving or eco boat tour out of Geraldton and spend a day beachcombing, exploring, picnicking, snorkelling and lazing in the crystalline waters (www.fish.wa.gov.au).
The Abrolhos comprise three main island groups – the Wallabi, Easter and Pelsaert groups – and extend for about 100 kms, like a western Barrier Reef. Temperate and tropical waters swirl around the islands, and the bright coral reefs teem with bird and marine life, including dolphins, sharks and whales in season.
From mid-March to the end of June, several of the islands are home to licensed fishermen, who haul in $40 million worth of western rock lobster. The rest of the year visitors can come ashore, though private boat owners must seek permission first. Hard to believe that this unspoiled tranquillity was the scene of Australia's first-known massacre in 1629, inflicted on the shipwrecked unfortunates of the Batavia (the first, albeit accidental, European residents of Australia) by mutinous thugs. The Batavia wreck, popular with divers, is on Morning Reef in the Wallabi group. You'll no doubt hear the spine-chilling tale on the way out to the islands. Suffice to say, the evil that visited these shores makes Lost look like a lark.
Flinders Island, Tas
The largest of the 52 Furneaux Islands, which rise like mountains in the sea, Flinders Island (www.flindersonline.com.au or www.focusonflinders.com.au) lies in Bass Strait, just 20 kms off the northeast tip of Tasmania, but some 150 kms by plane via Launceston. Flights from Melbourne take an hour. Flinders Island's granite spine runs north-south.
The main road follows the older west coast, where you'll find Whitemark, the largest town. Farther north is Emita, the oldest settlement, with the haunting Wybalenna Aboriginal settlement and its chapel. Like many places in southern Australia, the island was first inhabited by sealers, along with the Aboriginal women they abducted from Tasmania and the mainland. Within 30 years sealing was finished and farming, fishing and mutton-birding took over as the main industries.
Tourism is a nascent industry but the island has definite appeal for its boating, bushwalking, Aboriginal history, sport fishing, bird-watching, uncrowded beaches, seaside trails, lookouts, lighthouses and marine life. Strzelecki NP in the south has panoramic vistas across Franklin Sound to Cape Barren Island. An added attraction is the unique range of flora and fauna, as Flinders Island is the southernmost home for some species and the northernmost home for others. The climate is maritime – and no, that doesn't mean brrrrrr. Locals boast of more sunny days than the Gold Coast and also claim to have it all over Melbourne: it's cooler in summer and warmer in winter.
Bruny Island, Tas
Lying in Storm Bay, only 40 kms by road from Hobart, Bruny Island (www.brunyisland.com) comprises North and South Bruny Island, joined by a sandy isthmus. A vehicular ferry links Kettering and Roberts Point, on the north island, about ten times a day. The north is mostly flat farming land, while the south is undulating and wooded.
Bruny Island is Tasmania in miniature: historic, scenic and tragic. Early visitors included captains Cook and Bligh – the latter (or his botanist on the Bounty) is said to have planted the Apple Isle's first apple trees. Whalers and sealers were the first European residents, and many of them enslaved local Aboriginal women. In 1838 the remaining Indigenous population was removed to Flinders Island, ostensibly for protection, only to be decimated and shipped back a decade later. Bruny Island was home to Truganini, whose fate encapsulated that of her people. She died in 1876; not until 1975 were her ashes finally scattered off the island. A memorial is located on the isthmus (www.discovertasmania.com.au or www.discovertasmania.com).
The three main settlements – Adventure Bay, Lunawanna and Alonnah – are on the south island. Captain Cook's landing place overlooks Adventure Bay itself, and there are wonderful coastal walks in South Bruny National Park, which covers the rest of the east and all of the south coast, and takes in 1000-year-old black boy forest. On the windswept Cape Bruny is Australia's second-oldest lighthouse (1836). There are more than 200 kms of roads (mostly gravel) to explore, spectacular beaches, lots of sea birds and penguins, and a range of accommodation in an unspoiled setting.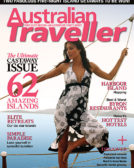 Enjoy this article?
You can find it in Issue 19 along with
loads of other great stories and tips.