Australian Traveller's cover girl Jessica Rowe (issue 66) has met trying times in both her career and her personal life, but nothing can keep this energised woman from speaking her mind and helping others along the way.
Someone slung a small car beneath a helicopter, flew it across the water and deposited it onto Noosa Main Beach a couple of days before the Australian Traveller shoot team rolled into town.
Bemused beachgoers fumbled for their smartphones to snap the airborne automobile and the rather effective marketing stunt was all anyone could talk about. That is until a day or so later when morning strollers clocked a leggy, cropped blonde in a blaze of sunny yellow bouncing along the boardwalk.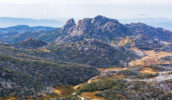 Lattes in hand and with sweaters draped over their shoulders in the early spring sun, people stopped to watch the smiling vision as she skipped backwards and forwards along a five-metre stretch of path.
"You look beautiful! That colour is wonderful on you," called the passersby, and Jessica Rowe, to whom the encouraging quips were directed beamed widely, halting the photoshoot to shake hands and chat with whoever wanted to snatch a few minutes of her time.
Jessica's grace
Such is the definition of true grace, to have time for everyone and give it generously. It's a quality that Jessica embodies seemingly without any effort at all. It's a part of her natural ease, which is somehow endearingly enhanced by her long-limbed and almost Bambi-esque stature.
Quick to laugh and honest to a fault she admits her candour often lands her in unfavourable waters.
"I'm a notorious over-sharer," Jessica says, true to form, over a coffee at Hastings Street's Aromas cafe, where she has frequented on more than 14 Noosa holidays.
"Often Peter [Overton, Jessica's husband] texts me while I'm on the set of Studio 10 and says 'zip it, zip it now!', but it's too late by then, I've already said it!"
The Eddie McGuire incident
Network Ten's morning talk show Studio 10 is where Jessica has happily landed after riding out a few tumultuous career manoeuvres, including the very public run-in with Eddie McGuire at Nine, which led to her losing the co-host position at Today while she was on maternity leave.
Although she describes her experience at Nine as "bloody awful", she's quick to identify a silver lining in being pregnant with her first child, Allegra, at the time, which armoured her with the perspective to see a bigger, more meaningful picture.
"I don't regret it [the job] for a moment. When you go through difficult times, that's when you discover what you can endure. You don't learn anything about yourself when you're just cruising along," she reflects.
Now back at Network Ten after an often trying eight-year hiatus, she couldn't be more delighted with the role, which materialised at a point in her life when all the dots were finally linking up.
"It's the happiest I've been at work and it's a job where I can be myself and that's very freeing," she says. "I'm at a point in my life where I feel comfortable in my own skin; the planets have aligned!"
Personal struggles
Yet Jessica is the first to admit she doesn't have it all together, all the time. In fact, she has been commendably open about the personal struggles that have accented her own childhood and journey into motherhood.
An ambassador for the mental health awareness group beyondblue, and the author of three books, including her most recent, a memoir called Is This My Beautiful Life?, Jessica has parlayed her tendency to 'over-share' into an honest dialogue that intends to abolish stigmas and encourage greater support.
Watching Jessica ham it up for the camera on our shoot, as she slings a lithe leg into the arms of an unsuspecting lifeguard and exaggerates the spotting of an imaginary whale, it takes some mental gymnastics to imagine how the same effervescent person could have been harrowed by post-natal depression.
But then, that's exactly the point Jessica is trying to make: there is no shame in mental illness; be open, get help, and you'll rediscover the joy in life.
As someone who had publicly shared her experiences of watching her mother, Penelope, suffer through bipolar disorder in their book together, The Best of Times, the Worst of Times, Jessica recalls how shocked and ashamed she was to discover she was mentally ill herself, following the birth of her daughter, Allegra.
"I felt the stigma, I felt like I had failed. I thought: 'what gives me the right to feel like this? I've wanted this baby for so long, I've been through IVF, I have a supportive family, we have a wonderful life.' "
Out of the blue
Then, in what could be a scripted plot line in a midday drama, beyondblue came knocking to ask if Jessica would be the patron of their new perinatal program. They, of course, had no idea she was suffering the same condition they were asking her to lead the cause for.
"It was so ironic. I asked them to send me some brochures so I could look into it, and I was going through their checklist of symptoms, thinking, 'yes, yes, yes'. I thought if I put the brochure aside, it would go away, but it didn't."
At that point, when she hadn't yet admitted her sickness to herself, much less her husband, extending an olive branch to arch-nemesis Eddie McGuire would have seemed like a more realistic proposition than going public with post-natal depression. Eventually the words came: at first to herself, then to her mother, and then to Peter, who she says took his wife in his arms and told her exactly what she needed to hear: that everything would be OK.
"As soon as you voice something that has been in your head for so long, it loses a bit of its potency," Jessica says. When the darkness had dissipated she contacted beyondblue.
"If I didn't speak up, I would be a hypocrite. There is still so much stigma around mental illness and especially post-natal depression. There is so much expectation around being a mother. All this, 'Oh, isn't it the best time of your life?' And when you keep hearing that mantra, it diminishes you."
That deep laugh returns
As she's bundled into a boat and sent off down Noosa River with our photographer in tow, Jessica is clearly enjoying herself, throwing her head back in that deep laugh regular viewers of Studio 10 will know well.
Her positivity is a great example of how a life touched by mental illness can be renewed, but what's more admirable than bearing her scars is the sincerity with which she does so.
She's completely without judgment and determined to empower those who are feeling incapable. And after the tribulations in her own life, which she is swift to point out are much less than others endure, Jessica seems unwilling to indulge the dangerously banal 'crap'.
"I do Botox," she declares. "But I'd rather say that than say, 'Oh, I wear sunscreen and drink lots of green juice and that's how I look like this!' It's crap! And, OK, you're deluding yourself, but more than that, you're deluding other people and that's not very supportive."
With so many opinions in the media shouting each other down in a relentless and often self-serving dialogue, Jessica's supportive, sensible voice is more needed than ever – even if her husband sometimes wishes she'd keep it zipped.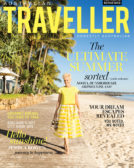 Enjoy this article?
You can find it in Issue 66 along with
loads of other great stories and tips.