Hidden Gems of Australia: If you've ever dreamt of cruising Australia, this is the ultimate way to do it.
Untouched wilderness, tropical rainforest, clear blue waters and world-class cruising – it's a heady combination, and an epic 40-night journey aboard the luxury expedition vessel L'Austral takes you to some of the most breathtaking destinations in Australia, that together give a taste of this country's vast beauty.
A remarkable itinerary, designed by Cruiseco, takes in historic towns, spectacular wilderness areas, indigenous communities and more. You'll enjoy a fully immersive, expedition-style experience featuring ports-of-call inaccessible to larger vessels, and your journey is further enhanced by an accompanying specialist expedition team that provides insights into the history of each port, as well as the flora, fauna and stunning landscapes you'll encounter.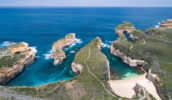 A superb mega-yacht, L'Austral is luxuriously appointed with just 123 cabins and suites where guests encounter a chic and elegant ambiance coupled with a refined and personalised service. Departing Sydney, L'Austral sails south to explore some of Tasmania's most beautiful places, with highlights including trips around pristine Wineglass Bay by Zodiac, bushwalking in Freycinet National Park and food and wine tours in Tamar Valley and King Island.
An optional scenic helicopter flight soars over the dramatic limestone stacks known as the 12 Apostles (count them from above – there are currently eight!), when the cruise docks in the coastal city of Port Campbell, Victoria. You can also wander a little further to view Loch Ard Gorge, the 70-metre cliffs of Gibson Steps and the serene Bay of Islands.
Kangaroo Island, lying off the mainland of South Australia, is the next stop. Renowned as one of the best places in the country to see wildlife, over a third of the island is made up of protected nature reserves home to some incredible native wildlife, including sea lions, koalas, diverse bird species and the eponymous marsupial itself. For passengers more into extreme wildlife encounters, Port Lincoln offers the chance to go shark cage-diving with great whites on the ultimate underwater adventure.
L'Austral spends 12 days of this cruise sailing along the coast of our biggest state, Western Australia, from Esperance to Wyndham. The attractions along the way are many, from Esperance's white beaches to the rugged granite headlands of Cape Le Grand National Park. Wine and food lovers can visit the famed vineyards of Margaret River and be charmed by Fremantle's boutique breweries.
One of the most beloved ports in the state is Geraldton, and fans of maritime history can learn more about HMAS Sydney, and the naval battle that ended the days of this ship during World War II, at Geraldton's excellent Western Australian Museum.
Next on the must-do list are the Houtman Abrolhos Islands, lying 60 kilometres off the Geraldton coast; 122 islands form an archipelago set among crystal-clear blue waters and abundant sea life. Dive, fish, bird-watch or just capture your memories by camera in this truly spectacular location.
The chance to snorkel and swim within a few metres of Ningaloo Reef comes as you visit Turquoise Bay, home to some 500 species of tropical fish. Then an overnight in Broome, the 'Port of Pearls', allows a little extra time to uncover its best: a sunset camel ride on Cable Beach, or a tour to learn how sought-after South Sea cultured pearls are farmed.
The Kimberley is one of the world's greatest wilderness areas, and cruisers have the chance to see it in all its glory by Zodiac boat, experiencing the truly remarkable natural phenomenon of Talbot's Bay Horizontal Falls.
The last port of call in Western Australia is Wyndham, offering an optional flight over Lake Argyle and the beehive-shaped towers of the Bungle Bungles, made of sandstone and conglomerates shaped by time into different domes – it's a unique marvel.
After one day enjoying the untouched beaches and clear waters of the Indonesian island of Selaru, the ship stops by Darwin, with access to the World Heritage wilderness of Kakadu, and then Yirrkala in the Northern Territory's ancient East Arnhem Land. This indigenous community is renowned for its bark paintings; here, a traditional Welcome to Country ceremony precedes a visit to the award-winning, community-run Buku-Larrnggay Mulka Art Centre.
From age-old traditions to tropical paradise, the ship drops down to Queensland's remote Thursday Island, Cape York and Lizard Island, before stopping at Cooktown, accessing an extended trip to Cape Tribulation and the world-famous Daintree Rainforest, before re-joining the ship at Port Douglas.
Hamilton Island offers sophisticated resort-style attractions, while World Heritage-listed Fraser Island, the world's largest sand island, boasts 100 freshwater lakes and a 120-kilometre 'beach highway' for passengers to explore.
The last two days aboard the ship are sea days, sailing to homeport Sydney and giving ample opportunity to make the most of L'Austral's luxe facilities. All meals are served on board the L'Austral and you can also take advantage of 24-hour room service; plus there are house wines, beers and sparkling wine on board for the duration of your voyage. Sip a cocktail at the alfresco bar, get decadently spoiled in the on-board spa, or if you are keen to check out the charts and navigational equipment in this ship, you have only to ask the captain.
Experience a different kind of cruising on this memorable voyage, departing Sydney on 25 January 2018. Fares start from $17,150 per person, twin share in a deluxe stateroom. Short on time? Cruiseco is also offering incredible savings for travellers who would like to experience a shorter 14-night voyage from Sydney to Fremantle. Fares start from $7,000 per person, twin share in a deluxe stateroom.  For more information visit cruising.com.au/booktoday or call the Cruiseco concierge on (02) 9492 8520 to find your nearest Cruiseco travel agent.