Georgia Rickard recounts a wondrous trip in a life-changing year of which she now has very little physical proof of. 
Like most Australians, I took a gap year before I settled down into a career.
Mine, which didn't take place after high school but commenced once I'd finished university, was intended as a cultured, grown-up affair rather than a rowdy beer-soaked mess (well, I was 20 by that stage – far too sophisticated to aspire to such childish pastimes), but quickly turned into the kind of common experience you read about every day.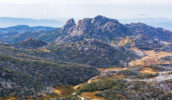 Not to say that I turned into a drunken Aussie-Aussie-Aussie! kind of reveller; rather, I succumbed to that other, predictable happenstance of long-term overseas jaunts: I fell in love.
He was living in England; I was studying in France. Well, to begin with.
All too quickly we were living together in Antibes, the yachting capital of the Mediterranean, sandwiched between Nice and Cannes on the French Riviera. And, yes, it was as idyllic as it sounds.
After a couple of months there, living in our tiny beachside apartment, we agreed to take a trip together somewhere – we needed a holiday from our holidays, apparently. With the help of a few rosés, a Eurotrain schedule and some creative deliberation (how far we could get on our limited funds), we decided on a place neither of us knew anything about: Slovenia.
Ah, Slovenia. Thinking about it now gives me pause at my keyboard. How to summarise what was, at that stage, a country so totally removed from Western Europe?
Back then, with a tourism board just five years old, it was perfectly provincial: a chandelier hung from the middle of the town square of the country's capital, Ljubljana, underneath which buses trundled along and sweet, cosy restaurants served homemade food and wine by the carafe.
No one, bar the urbane young, spoke English. Climbing to the top of a castle revealed a city half-filled with ugly black reminders of communism and half filled with magic. The riverside was full of picnics, and bridges, and green. Laneways held elaborate statues, and cycleways, and secrets. We'd fallen into a perfect, untouched world.
For two weeks, we drove around aimlessly, stopping when we wanted to and moving on when we didn't.
The Slovenian government at that time had recently instilled a tourism policy which involved rating the spare room in families' homes (one star, two star) and then installing a sign out the front of the home, so that passing travellers could have somewhere to stay.
All over the picture-perfect countryside – and it truly was picture perfect – the people we met and stayed with were some of the loveliest, sweetest, kindest I've ever encountered (yes, even though they spoke no English).
Everywhere we went was another perfect discovery: churches in hidden valleys, crystal clear lakes; a waterfall that would be famous anywhere else in the world. We held hands everywhere. I took photos of everything. And all the while, we fell in love a little bit more.
When we returned to France, still holding hands, my fate was sealed. I had met the man I was going to marry.
Except I never did.
The very next day, sitting at a French café, we were sharing a pot of tea when I realised the beginning of the tragedy – my camera was gone. We ran frantically around the town square, crying out to people and searching high and low, underneath tables, on top of an ATM – but it was too late.
Slovenia was lost. I was embarrassed at the strength of my sadness, but the realisation sat heavy in my stomach.
We remained together for several more years, but as is so often the case among the very young, our inexperience was against us. So that we might learn to travel the world without one another, we broke apart.
I have never been back to Slovenia. Given the choice, I'm not sure I would. Despite the sadness of what felt, at the time, as though I was losing precious memories, I am glad for that loss.
Cameras might capture clear images, but they can so easily distort memories, and I would hate to look back on pictures of that fairy-tale now, and see only the ordinariness that came later.
By losing the physical, I've really only gained: the connection, the feeling, the sense of a place and time I'll never forget, photos or no.