For our Luxury Issue, we asked ourselves this question: If we had an unlimited amount of money, but just wanted the best equipment to use while travelling, what would we buy?
Omega Moonwatch
In our Luxury Issue, how could we not look at a stylish watch that actually means something? The Omega Speedmaster Moonwatch enamel 2008 is based on the original watch worn by NASA astronauts during the Apollo missions, and in fact its precise timing was instrumental in the safe return of the Apollo 13. It's a luxury watch for those who appreciate great technology with some history behind it. RRP$13,400 with a limited run of just 1957 watches (the year in which they was first made). www.omegawatches.com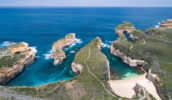 Nikon D3
The Nikon D3 is quite possibly the best camera on the market today for the money. It's not cheap – but it's become first choice for many pro photographers. The Nikon D3 is very sharp and very fast. Touch the shutter button and this camera will shoot like a machine gun, producing stunning image after stunning image. With superb low-light performance, fast focussing and excellent construction, this is the camera we'd buy if we won the lottery. RRP$7299, www.nikon.com.au
Roomba
Okay, you wouldn't take this little guy on your travels, but AT reckons it's perfect for letting loose inside the house while you're away. Created by tech-savvy company iRobot, the Roomba is a small, mildly intelligent cleaning robot that (depending on the model) can detect messy floor areas, work to scheduled cleaning times, avoid falling off things and bumping into walls, and even return to its home base once everything's nice and shiny. At which point it sounds a victorious little tune. Or, if it's stuck on something, a doleful, pitiful sound to help you find it. Which you won't because you're out travelling. RRP from around $399, www.roomba.com.au
Pioneer AVIC-HD3
The ultimate car navigation/stereo system if money is no object, the Pioneer AVIC-HD3 is the granddaddy of in-car entertainment systems. So what do you get – hard disk? Yes. iPod compatibility? Yes. TV? Yes. GPS? Yes. DVD player? Yes. Hands-free phone? Yes. Speech recognition? Yes. Reversing camera? Yes. You get the idea. This thing is it. We are simply unable to find anything that this system cannot do. RRP$3799, www.pioneer.com.au
Hasselblad H3D II
This is one of the most expensive digital cameras money can buy. But it's also one of the best. The Hasselblad H3D II is a stunning camera, and very much in the realm of professional photographers. If you must have the most impeccably built camera of the highest quality currently on the market, this is the one. Don't forget to add a lens, though, otherwise you'll end up with a $39,995 paperweight. www.silverpixel.com.au and www.hasselblad.com
ASUS Eee PC 901
With money no object, why are we recommending a $649 laptop? Easy: because it's the best travel laptop going around. It's not the fastest, it doesn't have the most storage and it doesn't have a huge screen. What it does have is solid-state memory, which means there's no hard drive (so no moving parts) and it's as reliable as the sun coming up. It has everything you need for travelling, it's light as a feather (1.1kg) and has built-in wireless, bluetooth and USB drives. So you can send emails, transfer your photos and do anything you'd normally need to do in an internet café full of smelly backpackers. And at $649 it doesn't hurt quite so badly when you accidentally drop it or lose it. www.asus.com.au
iPhone
You're going to be hearing a lot about iPhones in the coming weeks/months/years. We've been playing with one for six months or so, and our thoughts are: it syncs beautifully with address, email, photo, music and calendar applications on both Mac and PC; the 3G wireless is super-fast; we love the brilliant wide-screen display and trim profile, GPS mapping technology and innovative touch-screen interface with virtual keyboard, responding to multi-finger gestures; the web-surfing experience is top notch, and the glass display prevents smudging; we don't like that it only has a 2 Megapixel camera with no flash; and for some reason there's no "draft" folder, so if you send an email that doesn't make it through, it's gone and you have to start all over again. You'd think that would be an easy fix. www.apple.com/au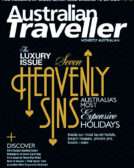 Enjoy this article?
You can find it in Issue 22 along with
loads of other great stories and tips.