Sunny Gajjar loves photography and motorcycling so much he will be spending two months riding 23,000km of Australia's most picturesque roads happily snapping away. The 32-year-old from New Delhi, India, has ridden around Australia before and estimates that he has clocked up close to 350,000km in 15 other countries pandering to his two great loves.
In 2007  the self-proclaimed 'MotoGrapher' rode 22,000km around Australia with another rider from India, but this time around he is solo on his trusty 1200cc Ducati Multistrada, after commencing his journey in Sydney on April 22.
Sunny is enamoured by the photographic opportunities and solitude that the open roads of outback Australia afford.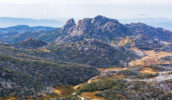 "People say it is a lot of nothing, however, even a board [road sign] in the outback stands out as a key element of photography when you look at it," he said.
"I like the vast empty highways; they allow me to meditate while on the bike. Nothing is quite like it."
But it's not all solitude on the open road. The locals Sunny has met so far have been inquisitive about his journey and the bike. He in turn has stumbled upon some interesting characters.
"I met someone carrying almost as much stuff as I was – on a bicycle and cycling in the middle of a long, never-ending outback highway," he said. "Made me rethink human limits and it put perspective on my own trip."
He has spent some long days in the saddle, even riding at night, despite the inherent dangers from hazards such as wildlife.
"Everyone says don't do it. I do it anyway because I have to; especially from Alice Springs to Darwin via Jabiru in Kakadu," he said. "I had to do 1600km in 24 hours to complete a certification called SaddleSore. I managed 1700km in 16.5 hours."
When he is not road tripping and snapping, Sunny runs his own motorcycling website, xBhp, and also manages a magazine back in India.
Sonny is not missing home but he sees the differences between India and Australia as well defined.
"Fewer people mean fewer troubles on the road: simple equation. But there is far less variety of landscapes and people than in India to ride in."
Another inspiration for the journey has a distinctly Australian flavour.
"I wish I could have done the trip dressed like Mad Max and I wish my bike looked like one of his. The film one was off the charts. A keeper, a cult."
His other road trips have included 7000km in New Zealand, 8000km in Japan and 10,000km overland from Dubai to Italy.
"New Zealand is an absolute photographer and motorcyclists' delight, but Japan is my favourite so far. The people are very courteous and the stuff that they do despite being such a small country is amazing."
Sunny is due to finish his round trip back in Sydney on June 26. So what's he most looking forward to for the remainder of the trip?
"The road ahead."
For more information check out MotoGrapher
His Hardware:
The trip is sponsored so Sonny has to produce good photos to keep up his road-tripping passion. Here is some of the hardware he's got strapped to his motorcycle:
1. Canon 5D M2
2. Canon 5D M3
3. Canon 24-105mm L
4. Canon f2.8 14mm
5. Canon 70-300 L IS USM
6. GoPro 3 Black
7. Gorillapod SLR
8. He had a digital slider and Manfrotto tripod, but he sent it home because it made the bike too heavy.
9. A Sennheiser wireless mic system to record video (he is also producing a short documentary).