Australian Traveller Arrival Gate 5 Minute interview with author Merridy Eastman
Arrival Gate Five Minute Q&A


WHO // Merridy Eastman
WHAT // Actor, Play School presenter and author
WHERE // Hobart and Munich
WHY // Her first novel There's A Bear In There (And He Wants Swedish), based on her time as an out-of-work actress forced to take a job as a receptionist in a brothel, went to No. 6 in the Australian book charts. Her latest book Ridiculous Expectations Or How To Find A Prince details her new life as an author, plus finding love in the most unexpected places.
What's the one place every Australian must see? Jervis Bay or the Great Ocean Road. I'm a coastal person and these places are just beautiful. Everyone should go there at least once.
Where's your favourite bolthole? Hobart. There's something completely different about the landscape and the colours and the sky. It's velvety, soft and beautiful. Plus my parents live there, and the people are so friendly and kind.
Favourite Australian hotel? The Lindrum in Melbourne. It's beautiful, old-fashioned, with gorgeous lighting – and you get an espresso coffee when you arrive.
Worst person you've sat next to on a plane? A guy named Lance, who was going through a messy divorce and told me about it all the way from Melbourne to Heathrow. By the time we got to Heathrow, I understood why his wife was divorcing him.
Who would you most like to sit next to? I'd love to sit next to Germaine Greer, Bill Bryson or Billy Connolly. I'm sure they'd be fascinating and hilarious.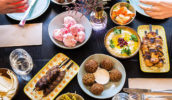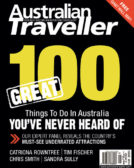 Enjoy this article?
You can find it in Issue 14 along with
loads of other great stories and tips.