interviewing Monique Wright
Arrival Gate Five Minute Q&A


WHO // Monique Wright
WHAT // The self-proclaimed "33-year-old weather chick" has been a reporter for Channel 7 for ten years and the National Features Reporter for Sunrise for the last four. She now works as Sunrise's roaming weather presenter.
Favourite secret Aussie hideaway? I could tell you but then I'd have to kill you. Okay, I love the Hawkesbury River. My grandparents built one of the first places on the river there by hand in the 1960s and it's remained in the family.
Favourite childhood holiday memory? Dad took us to a place in northern NSW. The only thing in the town was a trucking stop. Dad's nickname is "Cheap is Good But Free is Better", so he thought it was great. He got an exceptional deal and we "made good time" getting there. The reason it's my favourite is we got to rib Dad the whole time about how crap it was.
Best travel tip you ever heard? Keep your sense of humour. I travel around Australia in The Blend 43 Weather Winnebago and I've nicknamed it after an 89-year-old woman called Millie who's travelled around Australia 13 times on her own since her husband died when she was 74. She told me a story about visiting an outback pub and being asked by one of the regulars if she used to enjoy sex. To which she responded: "What do you mean, 'used to'?" Three days later she realised she'd been driving around with a sticker the regulars had put on her car saying: I got pissed at the XXXX pub. Rather than take offence, Millie thought it was hilarious and lists it as the No.1 place she'd like to go back to this year.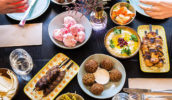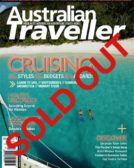 Enjoy this article?
You can find it in Issue 15 along with
loads of other great stories and tips.