The final feature from the MyPOWER Boys as they head home after cycling 16,000km around the country


They've done it. Mereki, Matt, Tom, and Anthony have cycled 16,000km around Australia to raise hopes for a better, more sustainable future. AT welcomes them home, applauds their monumental efforts, and recommends a long, hot, shower.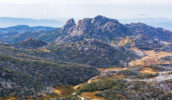 Travelling ages you. It's a fact. Maybe we travellers smile too much, carving too many lines in our once unblemished skin. Maybe we're exposed to the elements with more consequential force. Most of all, we've matured in our thoughts. Our eyes are a little wider. Our gaze a little sterner. Our ears more finely attuned to the relevant and rare. Above all, we earn the gift of perspective.
To try and comprehend a journey as big as ours is about as useful as air-conditioning on a motorbike. Our memories exist in the colours and shapes of Australia's changing landscape, in the moments of pleasure, the smiles and deep laughs of new friends at the Eucla Roadhouse or the smell of raspberry muffins in Tasmania's Deloraine. They exist in moments of pain, in the bitterly cold nights riding through the Barkley Tablelands, eyes stinging, fingers and toes throbbing. They exist in the deep blue of the Great Australian Bight and the deeper greens of Pemberton's karri forests. When we smell burning eucalypt, we remember warming our frozen bodies by boab bushfires in the Kimberley or cooking chunky beef soup over open flames in Kakadu.
I couldn't tell you the specifics of what it's been like to cycle every centimetre of Australia's coastline. Lack of detail is the unfortunate ugly cousin of perspective. All I know is, I feel like I've aged ten years. We've matured upstairs, too. Not just because we left home and adopted a new longitude and latitude. Flying the coop was the easy part. But we've matured in our thoughts and ideas through the people we've met and the experiences we've had.
Setting off on a journey to encourage our country's inhabitants to take up a more sustainable lifestyle was like a sweet song without words. The melody was in place; the thing just had to be written. And boy did it write itself. I had no idea so many Australians were living sustainably out of necessity, collecting their own rainwater and producing their own food for lack of alternative. It's a big, dry country out there, and we cycled through more bushfires than rainy days.
Aside from now sporting a strange muscle in my hip and calluses in places we won't go into, I feel as though we've come out of this journey relatively unscathed. Sure, now we know cattlegrids have more structural integrity than teeth – but hey, that's what travelling Australia is all about. If you're not up that well-known creek without that famous paddle, you're just not trying hard enough. True Aussie travel stories are built on bad luck's broad back.
So what does one do when the journey is over? Have a warm shower in our homes and be thankful for the gift of perspective, I suppose. We started out unsure about Australia's future in the face of an energy-uncertain tomorrow, and as we turned our legs over for the last time into our Harbour City, I realised there was reason to hope.
There's an unspoken knowledge among us all, from the Bay of Fires to Broome and back to Bundaberg, that everybody has the power to live a more sustainable lifestyle.
Heck, we city kids did a lap of the country on pushies living off tuna. I'm sure you could grow your own avocado tree. – The MyPOWER Boys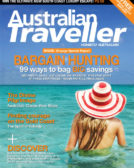 Enjoy this article?
You can find it in Issue 25 along with
loads of other great stories and tips.