When you're cycling a gruelling 16,000km around the entire continent, your idea of luxury can become somewhat . . . abstract.
The different shades of luxury travel



When you're cycling a gruelling 16,000km around the entire continent, your idea of luxury can become somewhat . . . abstract. As our brave MyPOWER lads are slowly discovering.
When we found out this was a luxury issue, we sort of freaked out. We stare at the small leather saddles on which we spend most of our days. Red grit is permanently lodged in our fingernails from trying to drive aluminium tent pegs into the hard ferricrete crust that covers most of northwestern Australia.
The truth is we seek luxury on an everyday basis just like every other Australian traveller. Some seek it in the form of five star resorts. That sounds good to us, but a one-night stay is likely to cost more than our yearly budget. Then there are those who carry their homes with them as they go. Buses – towing 4WDs – towing caravans – towing boats. We've seen it all. This sort of luxury touring often comes complete with armchairs, microwave, TV and a satellite dish big enough to pick up the sound of cracking ice on Saturn's rings.
So what could be luxurious about cycling 100km a day through the barren Pilbara? For this, we need to sit down and brainstorm as a team. "Seeing girls our age!" someone pipes in. I won't name names but I won't discredit the comment either. Soon other luxuries join our list, including an inch of soil for pegs, smiles from a stranger, dairy products, a tailwind, no flies on our faces and fresh fruit. Finally we agree that the most luxurious thing of all that we seek on a daily basis is . . . shade.
The humble gum tree, with branches low enough to string a hammock, cuts out 60 percent of the sun for up to four hours through the hottest part of the day. Such a gum tree might not be something you'd book ahead for, but for us it's worth writing home about. I give it four stars.
Bridges are a better option. Most we credit with four and a half stars, only making deductions for the inconvenience of quadruple-trailer road trains roaring overhead. But only recently did MyPOWER discover a luxurious shade structure truly worthy of the fifth star; it's found close to the Kimberley, and takes the form of a giant Boab at the Boab Rest Area, 158km west of Fitzroy Crossing. Who needs a shady canopy when you can lie under a tree trunk with more girth than a caravan turned on its end?
Whatever you find comfortable, be it lobsters and caviar in the penthouse, or the humble cup of tea in the caravan, be sure to jump outside your comfort zone from time to time and enjoy the simple, low-impact life. It's a five star country out there. And if you're anything like us, you'll find a little luxury in the strangest of places. – The MyPOWER Boys
*AT is proud to sponsor the boys in their 16,000km odyssey, and MyPOWER silver sponsors Kathmandu are offering a $500 Kathmandu voucher to spend in-store for the best photo of the lads on their journey (email your images to photo@australiantraveller.com to enter). Check out Kathmandu's great new winter range at www.kathmandu.com.au and visit www.mypower.org.au for updates on where the lads are at any given moment. Good luck!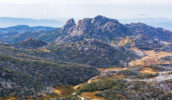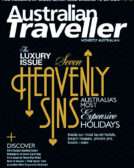 Enjoy this article?
You can find it in Issue 22 along with
loads of other great stories and tips.