AT's favourite all-male team of eco-conscious cyclists, the MyPOWER team, are up for a couple of awards – and you can help get them over the line!
Remember the MyPOWER boys who spent the better part of 2008 cycling 16,000km around Australia to raise awareness for a sustainable future? Well, six months on they've received some pretty exciting news.
The Banksia Awards are Australia's most prestigious environmental awards, and MyPOWER has been selected as a finalist for two major categories: One of five finalists for the Education Award, which was won by Earth Hour Australia in 2008, and one of nine finalists for the People's Choice Award.
Voting for the Banksia People's Choice Award is open until July 20, so if you'd like to get behind the lads throw your votes their way in recognition of everything they achieved last year.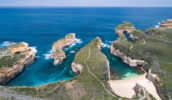 So CLICK HEREor head to www.banksiafdn.com to make sure the lads get the recognition they so richly deserve!