A Detours and Diversions piece for Australian Traveller about myths and legends
MYTH TRAVELLER



The First White Woman in Australia
In our new Myth Traveller section, AT explodes (or confirms) one of our country's greatest myths or mysteries. By Reg Watson
A lone memorial stands in a quiet church cemetery on a New Norfolk, Tas, back road, its inscription asserting that "near this spot was laid to rest Betty King, the first white woman to set foot in Australia" – Betty died in 1856 and ever since the question has been asked: was she really? The story goes back to the year 1786 when Betty (Elizabeth Thackery) was convicted for stealing three silk handkerchiefs. She was sentenced to be transported to NSW and was placed aboard Friendship, a First Fleet vessel.
Betty was no model prisoner. Twice she was caught trying to enter the seaman's quarters. Another time she fought a fellow convict and, much to the disgust of Lt. Ralph Clark, was allowed to continue by Captain Meredith since it gave him so much entertainment. Clark was appalled, writing in his journal, "The damned whores the moment that they got below they fell a fighting amongst one another."
Well, eventually Betty did arrive at Sullivan's Cove, on January 26, 1788. The story goes that when the officers' ladies were to land, they didn't like the look of the surf through which they were to be carried. Just to be reassured, they asked that a maid (Betty) be carried ashore first as a rehearsal. This was apparently done, with no official record kept. Another theory is that she jumped off the ship and waded ashore before anyone else could.
From Sydney, Betty travelled to the penal colony on Norfolk Island. Then, once freed, went to Van Diemen's Land (Tasmania) with her man, Samuel King, to settle in the Derwent Valley. Was she indeed the first white woman? True, there's no documentation, but then again, there's nothing to say she was not. Certainly in 1963 a well-known local, Henry Shoobridge, thought so: it was he who erected the tombstone in Betty's honour.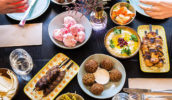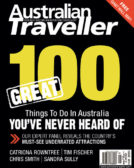 Enjoy this article?
You can find it in Issue 14 along with
loads of other great stories and tips.