Following on from his unearthly "Illuminated Landscape" exhibition held earlier in 2009 in Surry Hills, NSW, Sydney photojournalist Peter Solness is returning with a new and inspirational body of work: Light Play.
AT loves Solness' playful – and extraordinarily patient – approach to photography, in particular his fascination with long exposures and interesting lighting to create unique landscapes, and often bizarre constructions within those landscapes. Creating the images he does often takes all night to get everything just right, and the results are quirky, uplifting and – pardon us – very light-hearted. And it is definitely light that is at the heart of his work.
So if you do get a chance to go along to his upcoming exhibition, featuring "Aboriginal rock art illuminations from locations on Sydney's coastline and in Sydney Harbour, playful interpretations of the landscape and personal interpretations of portraiture", do not pass it up.
Details // Peter Solness' Light Play, 29 October – 31 January 2010. Exhibition Lounge (Level One), Customs House, 31 Alfred St, Circular Quay NSW. Free entry. www.arthere.com.au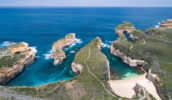 About Peter Solness // Peter is a photojournalist living and working in Sydney. He has more than 25 years experience in the business and a long and successful career in corporate and editorial work. He has been nominated and selected for numerous photographic awards, including Head On Portrait Prize, Sydney Life Exhibition & the Josephine Ulrick Photographic prize. He has been the principal photographer for more than ten books, one of these his own (Tree Stories). His corporate clients include Qantas, the Commonwealth Bank, AGL and Channel 7. He's also a regular contributor to many travel and lifestyle magazines. His last major exhibition was held at Stills Gallery in Sydney in 2000. Titled Tree Stories, this body of work was published as a book by Chapter & Verse publishing. www.solness.com.au