Welcome to the Outback issue: where you want to be right now (February/March/April 2018). On sale now: get it here!
For a city dweller like myself, it is all too easy to forget that Australia does not start and end at the invisible borders that demarcate our state capitals from, well, everywhere else really. Sitting in morning traffic or dashing to the chi-chi new espresso bar around the corner, I barely give a thought to the wide expanses that form the heart and soul of our continent, and to a large extent, shape our national identity.
My shame in admitting this knows no bounds, especially when my narrowed vision is expanded by putting together something like this issue, our annual celebration of all things outback.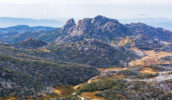 That's when the whole of the country is thrown into sharp focus for me, as I am gifted the opportunity to read fascinating recounts of the remote beauty that abounds here, and experience it for myself, as I did recently. Feeling truly removed in a landscape or destination is a remarkable thing in this day and age, at once disturbingly confronting and exquisitely unique.
It is how I felt standing in the stony morning silence at the base of Uluru, towered over by a mass of rock and dwarfed to nothingness by the endlessness that surrounds it.
But this remove is all relative; for the five or so permanent residents of South Australia's William Creek it is their everyday reality (page 100), while the people of White Cliffs in outback New South Wales (page 128) have adapted a quirky way of life as a result of it.
It is the reward at the end of Craig Tansley's journey into the far reaches of the Northern Territory (page 108); it is what makes the Kimberley region such a mythical proposition to many (page 118). And in the case of the country's Indigenous peoples, it has allowed them to thrive for millennia, creating a sui generis culture of fascinating traditions that is rightfully celebrated among the colour and dust of the biannual Laura Dance Festival (page 88).
The issue also has a few city-centric stories among its pages, such as our lowdown on the latest happenings in Carlton (page 70), because to truly appreciate the remote you have to have the thriving and busy and diverse and contemporary. The blend of both is what makes each so individually unique, and what provides a truly wide-vision view of our home. Enjoy!
As always, we love to see where you've been in this wonderful country, so please share your images with us on Instagram and Facebook.
Happy travels!
Leigh Ann Pow
Editor, Australian Traveller magazine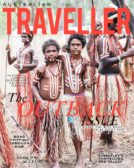 Enjoy this article?
You can find it in Issue 78 along with
loads of other great stories and tips.