Are you ready for The Outback Issue… Feb/Mar 2017 issue on sale now – get it here!
Welcome to the annual choose-your-own-adventure issue, otherwise known as the outback issue. This edition is always one of our favourites to pull together because it really is about putting on a blindfold and stabbing a finger somewhere in the middle of the country to unearth a uniquely Australian experience.
I am often surprised by how many people I meet who have never travelled to our country's interior, not merely because most of Australia is outback, but also because it is just so much fly-swatting, dirty boot-making, character-filled fun.
This issue, we swapped the standard troupie for a dirt bike and plonked our digital editor Steve on top. Steve's slightly elevated apprehension was veiled only by a thin attempt at bravado, but he soon bonded with his mechanical steed and had the ride of his well-travelled life. Read all about his journey to the tip of Queensland on page 98.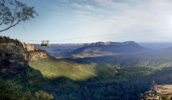 We weren't done with Steve, though. We also sent him out to South Australia's Coober Pedy (page 80) to chat to the people who call the wilds of opal country home. It's a brilliant and hilarious glimpse into a frontier-style life where everybody knows your name… but it may not necessarily be your real name.
We also headed west to the Golden Outback (page 68) for a road trip that takes in WA's wheatbelt, Esperance and Kalgoorlie. From ice-blue waves to the incredible Wave Rock and the mirage-like figures of Lake Ballard (our cover star), it's a journey of staggering beauty.
Keeping the theme of an outback drive, we also uncover Queensland's Channel Country and the Diamantina Shire, where beauty and mystery abounds. If you haven't heard of the Min Min Light and love the thrill of unexplained occurrences, I suggest you turn to page 90.
Of course, for those just embarking on their outback repertoire, a good start is always the Northern Territory; and Darwin makes the outback accessible for everyone, no matter your level of experience or your budget. Turn to page 106 for our guide to help you plan your trip: we have tips on how to see the Top End your way, with options for shoe-stringers and big spenders alike.
So, which outback adventure will you choose?
As always, we love to see where you've been in this wonderful country, so please share your images with us on Instagram and Facebook.
Happy travels!
Lara Picone
Editor, Australian Traveller magazine