As a reader, you may not realise just how important you are to this magazine. Sure, you may know that we can only exist if you purchase each issue, but do you know that this magazine is truly, honestly your own? You're actually the editor, whereas I merely put the pages together.
Every year, we ask you 'where to next?', along with a host of other questions. It's called our People's Choice Awards and, this year, a record number of you responded. In fact, a staggering 6400 people told us about their greatest Australian holiday dreams.
So, thank you, because as the collective editors of this magazine, you've shown us where to dispatch our best writers and photographers over the next year to bring you exactly what you'd like to see. Our cover star, Bondi Icebergs Club, is reason enough alone to do the Bondi to Bronte walk – winner of the 'Best Walk' category (see all the winners page 66).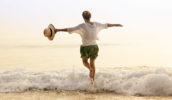 It's also summer (hooray!), which means pack-everyone-in-the-car holiday time. We've taken a slightly different tack and rather than visit the usual suspects, we're unveiling a few destinations flying under the radar.
First up, we spent time exploring the mystical Glass House Mountains of the Sunshine Coast (page 80). Towering impressively, easily accessible and breathtaking from any angle, these are pretty much the most overlooked mountains in the country. So consider this their official unveiling.
We also discovered the wild and ethereal world of Tasmania's south-west wilderness. It's so remote you can only access it by a seven-day hike or teeny-tiny plane. We opted for the plane, then immediately regretted it, then loved it again. Find out why on page 92.
Unless you're a Perthite, you may not know that our western gem has rolling hills within a Lycra-clad cycler's reach that have incredible mini-break potential. Next time you're over that way, eschew a day of beach-bathing for a trip into this charming playground (page 100).
And what's summer without a road trip, or six? This issue, along with our friends at the South Australian Tourism Commission, we're very proud to bring you a 36-page bonus magazine of South Australia's touring routes. Simply flip over to begin planning your next adventure.
As always, we love to see where you've been in this wonderful country, so please share your images with us on Instagram and Facebook.
Happy travels!
Lara Picone
Editor, Australian Traveller magazine