The votes are in and here are Australia's favourite escapes… November/December/January 2017 issue on sale now – get it here!
I know the stereotypes that go along with working for a travel magazine; upon hearing what we do, people instantly assume that our day to day consists of nothing more than reclining in business class and staying in five-star hotels. Far be it from me to try and convince you that working at Australian Traveller is anything but a complete blast, but we do often go above and beyond in our pursuit of a story. That's how our intrepid digital editor Steve Madgwick ended up standing in a council garbage dump on a muggy Queensland afternoon in pursuit of the majestic yet annoyingly elusive cassowary and why our deputy editor Daniel Down reached some approximation of nirvana while hurtling down a perilous slope in the wilds of Tasmania.
Travel tends to do that to you: take you out of your comfort zone and make you open your mind and your heart to new situations and experiences. Point in fact: two of our writers this month headed out on cruising adventures with little more than a driver's licence to recommend them; another travelled to the remotest reaches of our vast country to experience true beauty and complete isolation.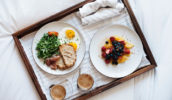 This pursuit of new horizons is what makes reading the thousands of answers we receive in our annual People's Choice survey so interesting; they give us a real insight into just how far you are willing to go in pursuit of your own travel story, from Christmas Island to the verdant reaches of Tasmania to Cape York, with some cruising, a hotel stay or two and a few city breaks thrown into the mix.
None of you ended up in a council garbage dump as far as I remember, but then we can't all live the glamorous life of an Australian Traveller staffer, can we? Enjoy!
As always, we love to see where you've been in this wonderful country, so please share your images with us on Instagram and Facebook.
Happy travels!
Leigh Ann Pow
Editor, Australian Traveller magazine