When tender young leaves finally return to bare trees, the scent of jasmine seems to linger everywhere and even the birds sound more upbeat, you know spring has arrived.
Whether you live in the city or the country, you can't miss the mood-enhancer that is the new season. And, because we're Aussies, we know spring means warmth and a return to the outdoors, both things we love.
One of those outdoorsy loves is getting out onto the water. This issue, we've done exactly that, we've hoisted the sails and drifted into the blue.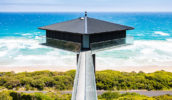 We skirted the rugged coastline of Tasmania.
Spoiled ourselves silly on a luxury cruise in Sydney's Palm Beach.
Joined a Hawkesbury River postman on his mail rounds.
But, perhaps most excitingly, we've discovered the Kimberley cruise you can actually afford. While most watertop experiences of the stunning northern WA coastline come with a price-tag that only oil barons seem to be able to afford, we've found a company doing it on the cheap.
We also left the mainland for Norfolk Island to see what's going on over there. As it turns out, a lot. We were so impressed by the younger Norfolk generation returning home and creating incredible food and experiences that we're calling it the new Tassie.
Don't forget, it's the last month you can enter the People's Choice Awards to go into the running to win a luxury Silversea Cruise from Bali to the Kimberley.
As always, we love to see where you've been in this wonderful country, so please share your images with us on Instagram and Facebook.
Happy travels!
Lara Picone
Editor, Australian Traveller magazine