Australian Traveller says of the Nokia N86 8MP: nice travel phone, works very well, but down with too many megapixels! It's time to get a grip and realise that quantity does not always equal quality.
The new Nokia N86 8MP phone is billed as a great travel phone. And it makes sense really. The phone has GPS built in, TWO cameras (front and back), MP3 player, FM radio and the capacity to record video. Naturally, like all smart phones, it has the ability to surf the web, connect to your email and download music and video.
So, on paper this makes it a great phone and in practice it works well.
Megapixels have evolved into a highly successful marketing ploy, and more of them does not a better camera make.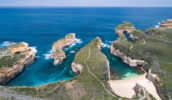 The camera in the phone is something Nokia is proud of. It's an 8-megapixel camera with Carl Zeiss optics. Zeiss is regarded as one of the best producers of optics in the world, so we were expecting big things. The phone also has a strong flash and the optics are optimised for taking clean photos in low light. When you combine that with the built-in GPS, you can end up with geo-tagged photos that you can place on maps to show your holiday photos and their locations.
The problem with all phone cameras is that they just don't take clean photos. And we don't blame Carl Zeiss (or Nokia, for that matter) – it's just that you really are expecting too much to get great results every time with a camera phone. The reason is simple: megapixels. There are good megapixels and bad megapixels. By cramming 8 million pixels on a tiny camera phone sensor, you're bound to get some noise in any photos that are taken.
This is because cameras need light to take a photo. The best analogy to use is planting a crop. If you plant your crop extremely densely, you end up with the plants all bunched up and fighting with each other for the available light. If you're not careful, you end up with stunted plants. On the other hand, plants with lots of space between them tend to grow more healthily. And it's exactly the same with the digital sensors used in cameras. The less pixel density you have, the "cleaner" your images will be.
But it's our fault, because camera (and phone) manufacturers have discovered that if you're choosing between two cameras, one with 5 megapixels and the other with 8 megapixels, the 8 megapixel one will be better, right?
No. As consumers, what we should be saying is: "Can I please have a 5 or 4 megapixel camera with a lower pixel density so that my photos will be cleaner?" But we don't. The moral of the story is that megapixels have evolved into a highly successful marketing ploy, and more of them does not a better camera make.
Take, for arguments sake, the superb Nikon D3 that you see professional photographers using. That's only 12 megapixels. And this does not mean that the D3 is a 50 percent better camera than the one in this phone. It costs $7500, money that's spent making sure its pixels are big, healthy and nicely spread out.
But we digress. When all is said and done the Nokia N86 8MP camera phone is capable of producing some good shots. And, most importantly of all, the best camera to use is the one you actually have. With the N86 you always have a camera with you and that's nothing but a good thing for travel.
Overall, we like the N86. It's like the Swiss army knife of phones. If we were forced to take only one piece of electronic wizardry with us on a trip, the Nokia N86 would be high up on the list.
But please, please, please stop asking for more megapixels. We need to unite and say enough is enough. Five megapixels in a camera phone is ample. After all, a clean 5MP image can be blown up to A4. How much bigger do you want?
RRP$949, and for more info including full specs, check out www.nokia.com.au
HAVE YOUR SAY: What do you think? Have you played around with a Nokia N86 8MP? If so, log in or register below and let us know.