Australian Traveller invited eight amateur photographers to showcase their images of Australia's poignant – and sometimes peculiar – outback.
For this pictorial look at Australia's incomparable outback, we wanted to draw on the experiences of this country's community of amateur and semi-professional photographers. In particular, we looked for images of stark beauty – the aching loneliness that can be found in a sparse landscape or incredible vista – for the uncanny or confronting, or anything just plain bizarre enough to make you shake your head in wonder.
For this, we owe a huge debt of thanks to the photographers of all levels who submitted images via the Australian Travel Writing and Photography Group at RedBubble.com – and in particular to the group's founder, Darren Stones.
The breadth of styles was huge, the passion for seeking out interesting landscapes evident, and these few printed here are only a small sample of some of the excellent work being done out there.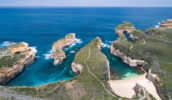 CAPTION DETAILS
1.The Last to Leave, By Mel Brackstone
"Shot in Wilcannia, NSW, this is a visual explanation of how many of our outback towns look these days. Long droughts and the high cost of living have forced many people out of their homes to look for work in the larger coastal centres."

2. Beneath a Southern Sky, By Annette Blattman
"This old tin church is on one of the self-drive car door tours at Lightning Ridge, NSW. Points of interest are numbered on old car doors by the roadside. It was built for a movie and is now privately owned, and this hour-long exposure was lit using just the brake lights from my car."

3. Desert Oaks in the Mist, By Jocelyn Pride
"I took this from right outside our luxurious "tent" at Longitude 131º. According to the locals, mist in the area is extremely unusual, and it really added to the mystique of the Uluru- Kata Tjuta National Park. The Rock is just to the right of this scene."

4. Children of the Dark Sun, By Firdaus Emir
"I took this at the '02 Outback Eclipse Festival on the northern edge of SA's Flinders Ranges. More than 8000 people from all over the world turned up to witness the eclipse on the horizon just near sunset, with a totality of 26 seconds at 7.41pm."

5. Wave Rock at Full Moon, By Sascha Unger
"Shooting WA's Wave Rock during the day is challenging. Doing it at full moon is amazing: Lie on the rock and feel the warmth of the sun-charged granite, listen to the million sounds of the bush and watch the stars move over the 15m-high edge of the wave."

6. Above the Bungle Bungles, By Amanda McLennan
"The Turkey Creek roadhouse in northwest WA sells tickets for scenic flights over Purnululu National Park. I couldn't resist. I'd love to drive to see them next time as I don't think you can properly grasp the enormity of the place from the air."

7. The Bus at Twilight Bore, By Professor Dirk HR Spennemann
"I took this sunset shot of the now- famous yellow double-decker bus at Twilight Bore in the Strzelecki Desert during a Charles Sturt Uni Desert Trip in July 2009. We camped 15min away between the dunes, returning early the next morning for another shoot."

8. Country Mailbox, By John Vandeven
"I shot this great looking mailbox on Victoria's Barnawartha to Beechworth Road one day when my wife and I were out for a Sunday drive. At about 1.6m high and made of metal, I just couldn't resist lying on my belly to take this image."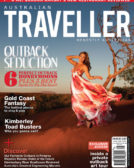 Enjoy this article?
You can find it in Issue 33 along with
loads of other great stories and tips.