For the safety and security of your mobile phone, the Pelican i1015 iPhone case is about as robust as it gets.
We would never speak ill of the very versatile range of Pelican cases now available – even though AT's editor Greg Barton accidentally drowned a Canon 5D camera in a supposedly watertight Pelican case while rafting on the North Johnstone River near Cairns.
But that's all water under the bridge, so to speak. We're here to talk about the new Pelican i1015 iPhone case.
It holds iPhones or iPod Touches, is waterproof (of course), dust proof, crushproof and has a clear lid – so you can still watch movies. There's an external headphone jack for when the case is shut and airtight, and it's been bolstered with additional moulded rubber strips in the lid for extra shock-proofing. We like that, because iPhones seem to be the easiest things in the world to drop and scratch, so any extra padding helps.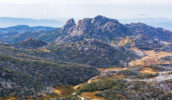 Pretty straightforward, really; it's a rugged looking piece of equipment that completely undermines any slim and sleek look you might be going for by purchasing an iPhone in the first place – but if security and safety are your highest priorities, it's definitely the most robust option out there.
RRP $69.95, check out www.outdoorsurvival.com.au for stockists.