Australian Traveller conducts a five minute interview with chef Peter Gilmore.
Arrival Gate Five Minute Q&A


WHO: Peter Gilmore
WHAT: As Executive Chef at Quay Restaurant in Circular Quay, Peter has run the kitchen for more than five years.
WHERE: Lives on Sydney's North Shore.
WHY: As a chef he travels extensively to keep in touch with local and international food trends.
Favourite Bolt Hole? Hyams Beach, Jervis Bay, on the NSW south coast.
Favourite childhood holiday memories? Catching my first fish with my father at Forster on the NSW north coast.
Favourite Australian hotel? Lilianfels, in the Blue Mountains.
One thing you can't leave home without? An open mind.
Most common thing left at home? The wife and kids.
Malcolm Fraser moment? I thought I was getting on the airport express train in Japan once, but ended up on a non-stop express going in the opposite direction, and after a $400 taxi ride I still missed my plane back to Australia by ten minutes.
Worst flight? A six-seater plane in Nepal.
Person you wish you could sit next to? My wife. If I said "Uma Thurman" I think I'd be in trouble.
Airline food: love it or hate it? Hate hate hate.
Food preference: simple or complicated, and why? Well, if you're still talking about airline food, then I think the simpler the better.
What delights you the most about Australia's gourmet scene? What delights me the most is the freedom of expression that Australian chefs have.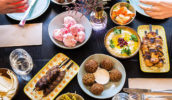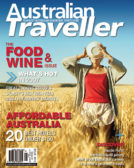 Enjoy this article?
You can find it in Issue 13 along with
loads of other great stories and tips.