Experience No.018 in Australian Traveller Magazine's 100 Greatest Australian Gourmet Experiences.

Hunting and foraging is in our nature. So forget trawling the supermarket aisles; ditch the shopping trolley and grab a wicker basket. Orchards, vegetable patches and fruit vines are scattered around the country just waiting to be unburdened of their plentiful bounty. Oranges, apples, peaches, cherries, strawberries, blueberries – there's enough options to make the world's most awesome fruit salad. Many farms have designated plots for the public to pick over; for a few dollars you'll get to fill up your basket and buy the fruit of your toils for a discounted price.
"Getting food from farm gates and picking your own produce means you're eating the freshest food possible." – Matthew Evans
Beerenberg Strawberry Farm in the Adelaide Hills does a steady trade in public picking. Red signs mark out a 100m square plot with rows worn down by foraging families. Kids jump between rows of vines, swooping down on rosy treasures that often don't make it to the punnet – and big punnets hold roughly a kilo of strawberries, which you'll walk away with for around $10. (Mount Barker Rd, Handhorf SA, 08 8388 7272, www.beerenberg.com.au)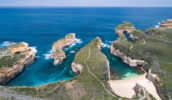 Australia's unofficial cherry-picking capital, you can't drive a kilometre in Young in the southwest of NSW without hitting a cherry orchard. Roadside signs point out driveways where you'll be welcomed with a bucket and a smile. Get in quick though – blink and you'll miss the cherry-picking season in early December.
At Eden Gate Estate in Albany, WA, plump blueberries roll right off the stems into your hands. They've done the hard work for you with muffins, ice cream, jam and preserves available onsite so those little gems you pick should be scoffed straight down. (685 Eden Rd, Albany WA. 08 9845 2003, www.edengate.com.au)
Did you know: Quite aside from being a gourmet picnic-producing pursuit, fruit picking is a major Australian industry with plenty of opportunities for travellers to earn some cash. Check out www.fruitpicking.org.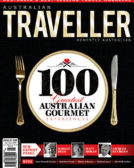 Enjoy this article?
You can find it in Issue 32 along with
loads of other great stories and tips.