Sick of staying at home on the 25th December? Don't worry, it's time to start your own festive tradition… here's how to get away from it all and have a stress-free holiday, and play the Christmas away game (by Nikki Walman).  
Picture this: it's 25th December. It's closing in on 40 degrees outside. Not to worry – you're inside, where it's cool and calm.
Just kidding! You're sweating profusely, because you just stuck your head in the oven again, ever-conscious of the 'great turkey dry-out' of 2012. Maybe you still haven't finalised a seating plan that keeps the kids from killing each other, your cousin out of the esky, and your hard-of-hearing grandfather steadfastly stationed next to your sister's loud-mouthed new boyfriend.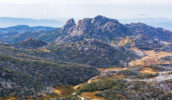 Or perhaps, like me, you (insanely) agreed to host Christmas 12 days before giving birth to your first child, resembling the overstuffed turkey you're slaving over while quietly cursing everyone as they merrily imbibe all the alcohol.
Everyone has their reasons for wanting to escape the annual get-together: pressure to find perfect presents; the subtly judge-y questions about your life plans (or, worse, your life decisions… especially if those life decisions happen to be seated at the table). And, as host, you have the added pressure of pulling it all together. It's a bloody triumph, really: of the stubborn will to combine hot turkey and cold prawns; meat-lovers and vegetarians; food allergies and topics-to-be-avoided; just enough beers for backyard cricket, but not enough for broken windows.
It's a perfect encapsulation of what family is all about – grand dreams, compromise, crushing failures, unconditional love and a steadfast refusal to throw it all in when the going gets rough (or the turkey gets tough).
But can I tell you a secret? I've heard that some people actually escape for Christmas – Christmas Day, not the day after. They order their gifts for extended family online; dodge the meal planning, hair-pulling, panic-cleaning and ridiculous table arrangements; instead, they book a campsite or a hotel room or rental, and they enjoy Christmas there, instead. They don't do it every year; perhaps when there's a new baby in tow, or to celebrate a big occasion, or to avoid a nervous breakdown/divorce.
While I'm hosting again this year, here are a few items on my 'away game' wish list… just in case.
1. The 'home-away-from-home' Christmas
Less pressure + home comforts = winning! Kid & Coe focuses purely on family-friendly homes for holiday rentals. They're growing their presence in Australia; with fantastic options in Sydney, Queensland, South Australia and Victoria. Kid & Coe communications director Laura Hall does the Christmas dash herself every three years: "I just buy my mum an extra big present to make up for it and we write a letter to Father Christmas so he knows where we're going to be," she says.
2. The 'get away from it all' Christmas
Sometimes, to truly escape, you need to make some sacrifices… like walls, flushing toilets and air-con. So, how desperate are you for an 'away game'? Do some research and decide how remote you want to go – popular sites tend to be heaving with people also keen to escape the madness at home. Buy Christmas presents that'll come in handy while you're out bush – think outdoor games, binoculars or board games. And pack beer. And toilet paper. And wine. Wine fixes everything.
3. The decadent hotel Christmas
In a stunning reversal of fortunes, you'll be waited on hand and foot. Spend Christmas morning in a plush bathrobe; take a leisurely swim; then hit the restaurant. Perth's spectacular COMO the Treasury is putting on Christmas Eve dinner and Christmas Day lunch at Post restaurant, and also offering a blowout, 'All I Want For Christmas' two-night package; while Radisson Blu in Sydney goes full-voltage on decorations and offers festive high teas, Gingerbread Martinis and a traditional Christmas dinner.
4. The food-centric Christmas
Check in for a feast you haven't prepared yourself. Sydney's The Star is hosting a smorgasbord of decadent Christmas lunches at its restaurants, from Italian feasts at Balla to deluxe festive dining at BLACK Bar & Grill (plus screening the Boxing Day Test in the 24/7 Sports Bar). Melbourne's The Windsor hosts its traditional Christmas Day lunch buffet, as well as a modern Australian degustation lunch; while Sofitel Melbourne on Collins is doing cracking Christmas cocktails – think Le Pain D'epice (The Gingerbread) featuring gingerbread syrup, rum, Disaronno and cream, garnished with crushed gingerbread.
5. The iconic Aussie beach Christmas
Shack or luxe beachfront pad – as long as it's a barefoot stroll to the waves (and the fish'n'chip shop), you'll relive the nostalgic Aussie Christmas of your youth. Salt-streaked lines run down your tanned legs from an early morning swim, mangoes for brekkie, BBQ for Christmas lunch, and a few beers at the local RSL might even have you reminiscing about how much you're missing everyone back at home. Well, Christmas is really about family at the end of the day… right?