An Australian Traveller Image Portfolio on Kiwi photographer David Wall's unique perspective on the Australian Outback. Portfolio David Wall
Stranger in a Strange Land [view as slideshow]

It often takes a fresh perspective to see the unusual in your own backyard. And Kiwi landscape shooter David Wall has seen enough to last a lifetime.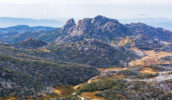 Although based in New Zealand, these days David Wall spends nearly as much time on shoots in Australia as he does in his homeland. His latest three-week odyssey saw 9000km travelled, 7000 images taken, four tyres shredded and one gearbox utterly destroyed. "The outback isn't the easiest place for photography," he says. "Long distances, rough and dusty roads hard on equipment – but there are some real gems that make it all worthwhile. Not just the well known sites, either. I was really surprised by the number of quirky subjects we came across.

"Coming from New Zealand, I find I'm more receptive to many aspects Australian locals might take for granted. It's easier to spot those differences – things that are unique to a region or country – when you're not exposed to them on a regular basis."
David's interest in photography developed into a passion when he was working as an expedition tour leader in Africa in the early '90s. Even back then he believed that taking a large number of pictures was important as
it meant more experimentation. "The more shots you take, the faster you learn, and you also end up with a larger number of top images."
Back in New Zealand, David published his first book, Visions of Africa, which has been followed by nine more pictorial books on his homeland, with two new aerial photography books in the pipeline. Aerial photography has become a major focus for David, who has now conducted more than 100 helicopter and fixed-wing plane shoots. Over the past decade he's built up a huge image library with more than 15,000 shots available
on his website. His aim is to make www.davidwallphoto.com one of the top sources for local images in Australasia – something David says could happily take the rest of this lifetime.
Salt-encrusted wagon wheel
Blinding white salt encrusts historic salt works remnants on the edge of Lake Hart near Woomera in South Australia. A nearby sign warns visitors that if they venture further onto the salt lake they're at serious risk of being blown up by rockets in the Woomera Prohibited Area. What a country.

Coathanger Climbers
Like marching ants, Sydney Harbour Bridge climbers are a common sight high above the carriageway. Though it's often a good idea to pack light for travel photography, I can never resist carrying a full compliment of equipment. In this case, lugging a heavy 400mm lens around Sydney meant this shot could be taken some distance away from a park bench by the Opera House.

Shadow on a salt lake
There's little except our spotter plane's shadow to judge the scale of the vastness of SA's Lake Eyre – Australia's largest lake. Despite being 15m below sea level, it only fills up with water once every few years, most recently in this year.
Desert oak and derelict double-decker
Long distances in the Australian outback are punctuated by occasional scenes that have you wondering if you've spent too long driving in the heat of the day. The road between SA's Strzelecki Track and Camerons Corner is the last place you'd expect to come across a bus. Its only passengers nowadays are noisy flocks of galahs.

Underground pool room
Coober Pedy has a largely subterranean focus, from the reason for its existence – opal mines – to its houses, churches and accommodation. The pool room at the Desert Cave Hotel offers a haven from surface temperatures that often reach the 40s.
Redcoat bollards
A collection of colourful bollards decorating the Port Phillip Bay waterfront in Geelong brings smiles to the faces of passers by. In this particular series, a band of redcoats face their conductor.
Plane Henge
Near Marree on SA's Oodnadatta Track is Mutonia Sculpture Park, created by sculptor Robin Cooke. Plane Henge consists of two Beechcraft Barron aircraft, brought by road from Victoria's Moorabbin Airport and erected with the help of around 50 people. I especially like the two preening galahs who've made it their temporary home.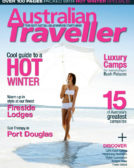 Enjoy this article?
You can find it in Issue 16 along with
loads of other great stories and tips.